Sharon Nicholson Harrell, DDS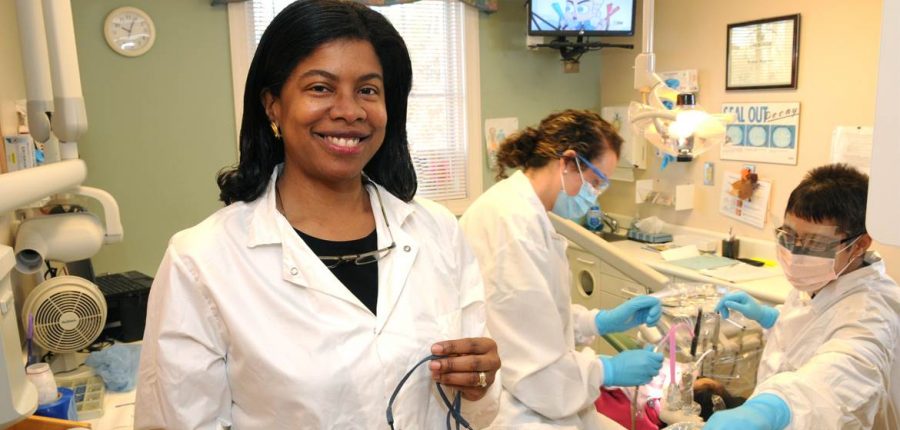 As the founding director of FirstHealth Dental Care Centers, Sharon Nicholson Harrell, DDS, is fulfilling a goal she set for herself in undergraduate school – to care for underserved populations. As an AHEC preceptor, she is encouraging future graduates to do the same.
FirstHealth is a regional dental office with three sites established to provide comprehensive dental care for low-income children up to age 18 – Southern Pines in Moore County, Raeford in Hoke County (both Southern Regional AHEC counties), and Troy in Montgomery, a Greensboro AHEC county. Because most local practitioners did not take children or Medicaid patients, the largest unmet need among low-income children in the three counties prior to 1997 was dental care, Harrell explained. "There were many kids with nowhere to go." Local practitioners agreed that FirstHealth should take the lead, and the first site to open was Southern Pines, which opened its doors in October of 1998.
Harrell and her staff precept 2-3 dental students per year. The students do cleanings, fillings or restorative care, extractions, patient education or parent education, and preventive care. "The students get to rotate with several doctors," she said. "This gives them a chance to experience different philosophies." She limits the number she takes at a time in order to spend quality time with each. "Several have come back to the area – some to work with us, or to work in private practice and fill in here. It's a win-win for both of us."
Students run the gamut in range of abilities and comfort level with children, Harrell explained. "Many of those who come to us are not aware of the challenges that lower-income customers face. Two eye-openers for them are customers who don't have phones, and lack of transportation. Customers have to come when others can take them." These and other challenges drive home how important dental education is. She added that other staff members are just as critical in educating students as to what the real world is all about, from learning about practice scheduling from the receptionists to working chair-side with assistants and hygienists.
"We have three goals for our students. One, to increase competency in pediatric dental procedures. Two, to increase speed. In dental school, students spend 3 hours with one patient. Here, the students see one patient per hour – that's a three-fold jump. The third goal is to increase knowledge of public health practice."
A preceptor since 1992, Harrell has been involved with AHEC in a number of ways. Her first encounter was as a young provider taking dental education classes at Southern Regional AHEC in 1991. "I had just come from a residency in Maryland and was impressed by not having to go too far for quality continuing education," she said. She served on the Southern Regional Board of Directors for a three-year term, then in 2001 chaired the executive director search committee which resulted in the selection of Deborah Teasley, PhD, as president and CEO of Southern Regional AHEC.
Harrell's interest in dentistry started in 10th grade when she began wearing braces on her teeth. She found the instruments on the tray, the rubber bands and the entire process fascinating. With the unwavering encouragement and support of her parents, both factory laborers from Rockingham, she entered the University of North Carolina at Chapel Hill with a goal of eventually becoming an orthodontist. But in time she realized her true interest lay in public health and in providing a broader range of procedures to underserved populations. She switched to general dentistry while in dental school at UNC. Harrell also has an MPH degree from UNC and a certificate in Advanced General Dentistry from the University of Maryland.
The eldest of three sisters, each of whom are professional women, Harrell credits her parents as being her dominant early influence as well as the driving force behind the twin values of education and hard work. "When I was coming of age in the 70s, my father instilled a can-do attitude so that even without a role model in town, I could achieve my goal of becoming a dentist. He taught us that there had never before been so many opportunities open to young African American females – the sky was the limit." Now a role model herself, Harrell takes that responsibility to heart. "It's very important to be role models for kids today so that they can see others doing what they aspire to do.
"I like the opportunity to expose students to real-world dentistry and I like teaching. The preceptor role allows me to connect with students. It challenges me, keeps me very current.  What keeps me motivated is being able to see the progression of students who are more prepared when they enter the real world. We enjoy playing a role in making future graduates feel comfortable in taking care of pediatric patients. By being exposed to underserved populations, we hope they will be more likely to accept them in their own offices."