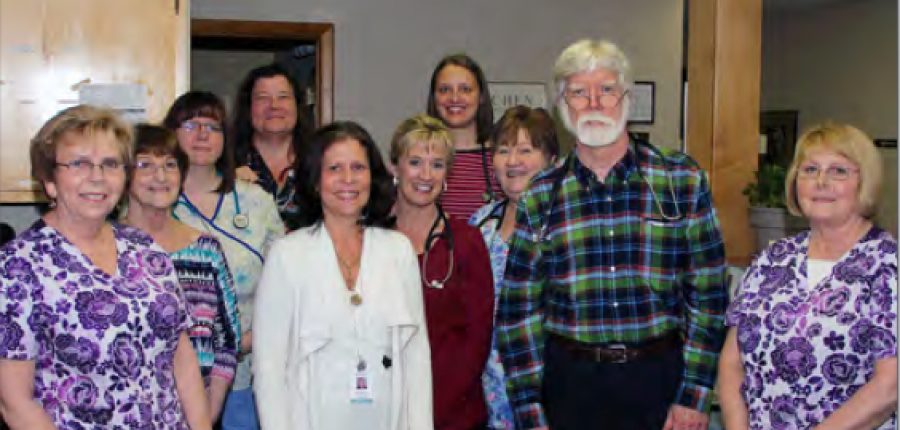 In the heart of Cherokee County is Peachtree Internal Medicine and Brian Mitchell, MD—a dedicated solo practitioner for almost four decades who knows the challenges of rural medicine, from recruitment to reimbursement.
"We struggle in rural practice here in Murphy to maintain enough revenues to keep up with the cost of care," Mitchell says. "Without (MAHEC's Terri Roberts), it would have been very difficult for us in the past two years."
Roberts is a MAHEC senior consultant who personally oversaw Peachtree's transition to comply with the HITECH Act's Meaningful Use 1 and 2 guidelines, which require clinics to enact Electronic Health Record (EHR) systems and reporting. Roberts met with the staff regularly, helped propagate patient records, streamlined referrals and computerized billing, and gave the staff suggestions for vetting the vendors necessary to provide software.
"She assisted us with all aspects of transition from paper to computer… We are grateful for her overall skills and support of our practice in dealing with the complex and ever-changing health care environment in our region," Mitchell says.
EHR systems aim to streamline care, lessen the likelihood of clinical error, and improve the ability of practices large and small to administer the best medicine possible.
The work Roberts does in these clinics is about more than meeting new technological standards and maximizing the potential for tracking and qualifying information—it also is about ensuring physicians and staff are empowered to provide the best care possible.
"My favorite part of the job is working with the physicians and other providers and staff and watching them succeed and gain confidence and get comfortable," Roberts says. "Also, to see the improvement in our chronic care and complex patients and know that every step of the way, every level of improvement, saves a life and contributes to an improved health care environment."