Practice Support Helps Richmond County Physicians Get Ready for EHRs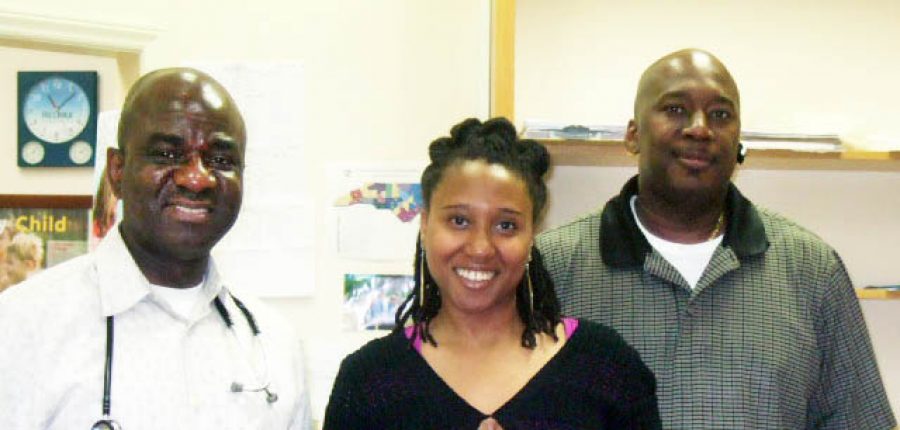 Photo above: Patrick Egbe, MD, of Choice Pediatrix, Rockingham, NC, with Southern Regional AHEC REC Practice Support Coordinator Lisa Blandin and Technical Assistance Specialist Robert Ward.
Editor's Note: This article provides a glimpse at the work of one of the nine AHEC Practice Support Groups working as a federally-funded Regional Extension Center (REC) site. In November 2013, the statewide NC AHEC REC exceeded their goal of helping 3,580 providers go live on Electronic Health Records (EHRs).
Patrick Egbe, MD, wants to be ready. The Richmond County pediatrician wants to be ready by 2015, when all North Carolina health care providers are required to be operating on electronic health records software and sharing information with other providers to meet health care reform regulation. With the guidance of Southern Regional AHEC's Regional Extension Center (REC), Egbe believes he is closer to being ready than he would have been without their assistance.
"They have made a big difference for me," Egbe said of the professional team that helped him choose his electronic health record. "I was very skeptical and not clear what it was all about, but they came in and figured it out for me," he recalled. Egbe was impressed that Southern Regional AHEC's (SR-AHEC) REC personnel were working with other health care professionals just like him. "They helped me understand where to go for answers because they were working with other pediatricians," he said. "I would never have been able to do this on my own." Based on his current management system, SR-AHEC's REC team suggested the Blue Cross/Blue Shield Allscripts web-based electronic system for Egbe's office, Choice Pediatrix. "In that regard, they helped me on the decision of what kind of system was best," he said.
Egbe attended an informational session after Allscripts was recommended to him. "I looked for myself and I liked what I saw," he said of the recommendation. One of the reasons Egbe said he chose the Blue Cross/Blue Shield Allscripts was its ability to interface with the North Carolina Health Information Exchange. "That sealed it for me," he said. "That aspect of it makes this very exciting."
In terms of the implementation, SR-AHEC's REC team was also able to help Egbe sort out his hardware needs. "I'm sure it would have taken me a much longer time to be able to figure that out," he laughed, saying he had no idea what was required. "All I had to do was send an email, asking what I needed and Robert (Technical Assistance Specialist Robert Ward) gave me his recommendations of what to buy." Egbe said that without the REC assisting him along the way he wouldn't have known where to turn for help. "I would have gone to the local big box store, who will sell you anything. The regional extension center made that part of it easy."
But converting patient information into electronic health records hasn't been without its challenges. "Transformation of information is difficult sometimes and doubles the work, because if the patient is not in the system yet, I have to stop and look for the paper chart," Egbe said. He also sees the benefits. "With an electronic record, I'm not looking to see if my handwriting is legible or not. I'm not wondering 'is this an 'i' or an 'e',' so anyone can read it. That part is great."
Egbe believes that the patient will be able to see the advantages of electronic medical records when the NC Health Information Exchange comes online. "That will be huge. With a click of a button, you have all the information without guessing," he says. "You can have past medical information with a patient you've never met before. You don't have to rely on the patient to remember and you don't have to wait for information. It will be a time saver and a cost saver."
Egbe would tell any physician practice in the region that might be hesitant about electronic health records that they should take advantage of the services provided by Southern Regional AHEC's Regional Extension Center. "This is part of history and this is the way it's going," Egbe says of electronic medical records. "I appreciate what the REC has been doing for me. I want to do the right thing."
Southern Regional AHEC's Regional Extension Center has helped Egbe and 115 other practices in the region reach milestones in getting ready for 2015. And for other practices in the region waiting to convert patient records to electronic medical records, Southern Regional AHEC's Regional Extension Center stands ready to help them too.