Angel Moore
Director of Practice Support at Eastern AHEC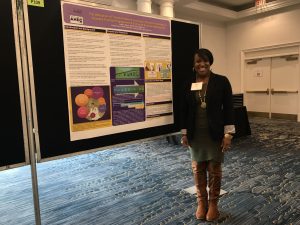 "To make a transformation, a person faces something that they can't look away from. It typically makes them question what they've been taught or what they thought all of their life, their values and perceptions, and they can't ignore it. They've got to confront it."
Angel Moore is well-acquainted with the changes that medical practices across North Carolina have undergone over her nine years with North Carolina Health Education Centers (NC AHEC) Program. When Angel first joined Eastern AHEC as a practice support consultant in 2011, a primary challenge for providers was the transition to an electronic health record (EHR). At the time, supporting practices through that migration of patient records to EHR systems was her team's sole focus—and their hands were full.
"We saw some practices close and providers retire when they just knew they wouldn't be able to make those adjustments," Angel said. "Change affects people differently."
Nonetheless, Angel and the rest of the Eastern AHEC Practice Support team, which supports 23 counties, committed themselves to helping practices promote interoperability.
"It was about more than just storing patient information in an EHR," Angel said. "It was about moving them toward a system that would allow them to extract data and run reports. It's just been amazing to see providers who fought hard about that transition now effectively using their system to improve outcomes. That is a good journey to be on."
Angel's journey continued when she assumed the director role of practice support for Eastern AHEC in 2014. Since her days as a consultant, the scope of her team has expanded to assist providers with new payment models, incentive programs, and other initiatives, including the transition to Medicaid Managed Care.
"In addition to having a caseload of practices, I do supply my team of coaches with resources to help them move forward with all of the different programs that we have," Angel said. "It's so hard when people ask, 'What do you do?' because I don't have one of those one-word replies. It's a world where I never have the same day twice."
Prior to joining Eastern AHEC, Angel worked at Craven Community College, overseeing aspects of both the health information technology and medical office administration programs as a director and lead faculty. Angel also holds a Bachelor of Science in Health Information Management and a Master of Arts in Adult Education, both from East Carolina University. While studying adult educational principles, Angel developed a particular interest in transformative learning theory.
"It was the theory that stuck with me the most because I was thinking a lot about next steps or decisions that I had to make in my own life," Angel shared. "I also think it's the perfect approach to help practices be able to transform."
Transformative learning theory encourages learners to move through 10 steps of self-reflection to make a sustained change. This learning experience is triggered by an event that forces the learner out of a set of preconceived notions, identified as a disorienting dilemma.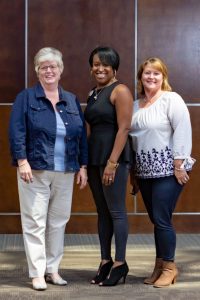 "Some of the work we do with practices is to reorganize and improve the efficiency of process changes. Those aren't necessarily disorienting dilemmas that rock their world, but the larger changes—like transitioning to value-based care—can be," Angel said. "If we can take the principles and tools that come with transformative learning theory and apply it to those providers, they're going to be able to understand the 'why' of what it is we're doing." Angel's research poster resulting from her studies, titled "The Utilization of Transformational Learning in Practice Facilitation to Increase Practice Engagement & Sustained Practice Improvement," took home a first-place prize at the International Conference on Practice Facilitation in December 2018.
Years after the completion of her program, Angel continues to find teachable moments in her line of work every single day. They aren't only occasions to relay her expertise to the practices she supports, but moments to learn something new that informs her coaching strategy.
"The night before a site visit, I used to write an agenda on what we were going to do, what we were going to talk about, what I needed the practice to achieve," Angel said. "That made me feel prepared. Then, I would walk in to the practice and meet the barriers they were already facing. We couldn't get to my agenda because they had challenges that needed to be addressed first. That used to bother me. I felt like if I didn't check my things off, then it wasn't a productive day or I had failed somehow. It took a little while, but I got used to walking into a practice and listening to the issues that were of highest priority to them," she said. "When I am able to do that—and sometimes I don't even know what it is I'm walking into—it feels amazing, because it's not about me and it's not about what I need to check off. It's about what is most important to them."
"In doing that, I typically learn even more from these providers," Angel laughed. "I think that they probably learn from me sometimes."
To learn more about the Practice Support team at Eastern AHEC, contact Angel Moore at moorean@ecu.edu.