If there is a strand weaving through all sectors of health care—education and workforce—NC AHEC would be that thread.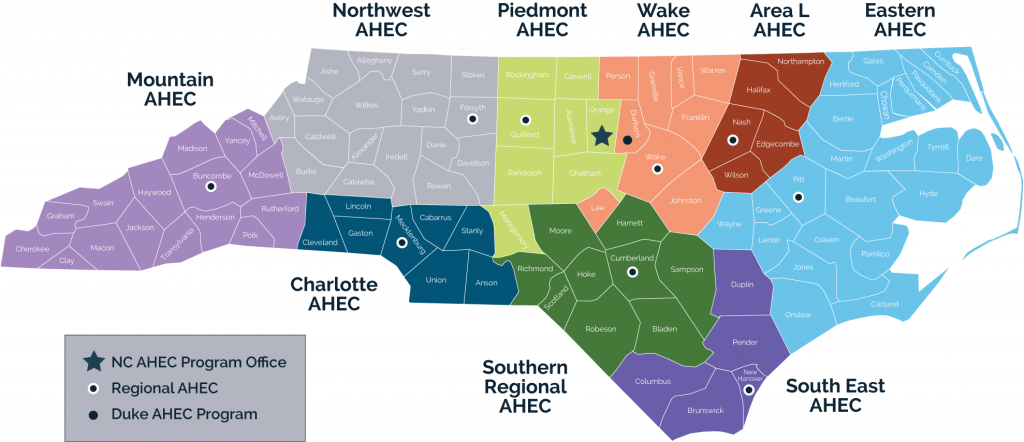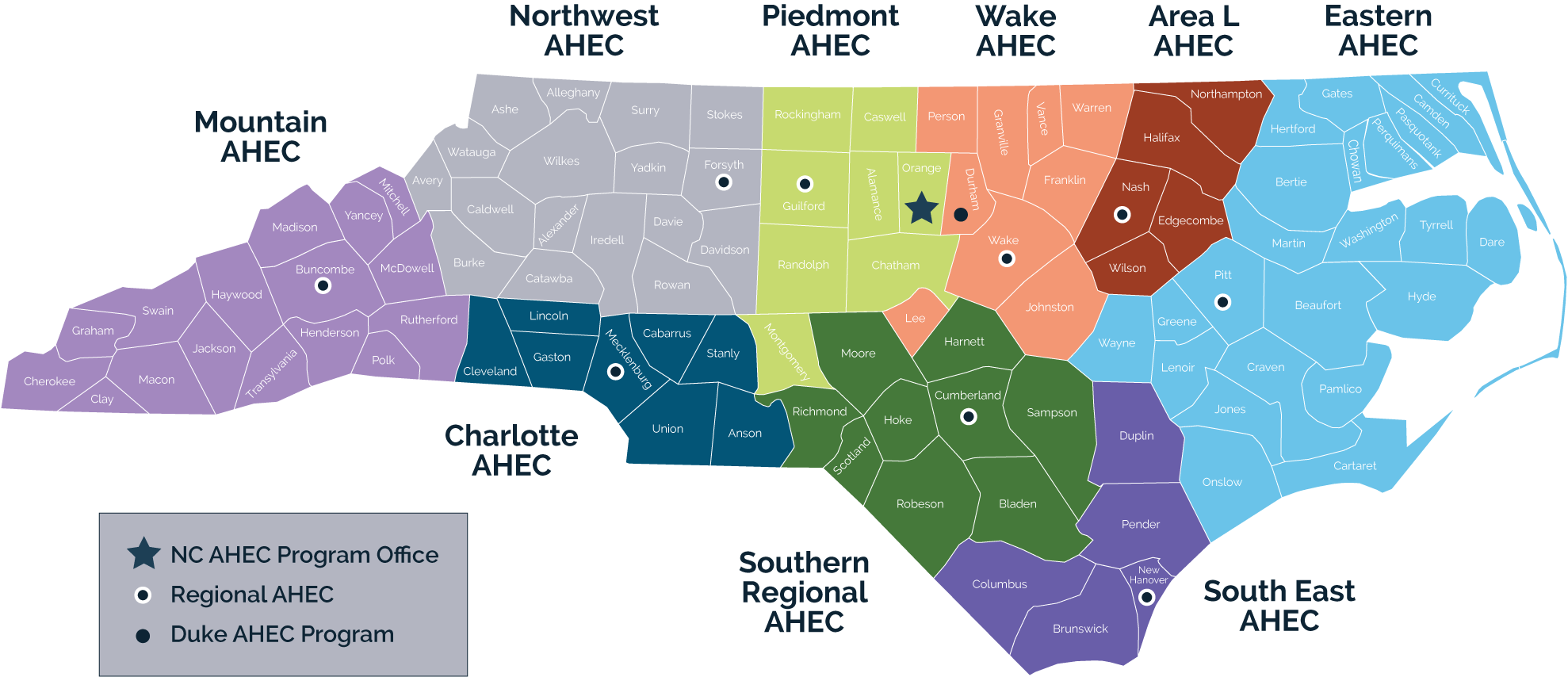 The North Carolina Area Health Education Centers (NC AHEC) Program began in 1972 to address national and state concerns with the supply, distribution, and retention of health care professionals. In 1974, the State of North Carolina's General Assembly supported a plan to create a statewide network. Today, thanks to federal and state legislative support, NC AHEC consists of the NC AHEC Program Office, a network of nine regional AHECs, and the Duke AHEC program.
NC AHEC's mission is to provide and support educational activities and services with a focus on primary care in rural communities and those with less access to resources to recruit, train, and retain the workforce needed to create a healthy North Carolina. We envision a state where every North Carolinian is healthy and supported by an appropriate and well-trained health workforce that reflects the communities it serves.
What does this mean for you, as a resident of North Carolina?
It means that, through our continuing professional development programs, your family doctor, your dentist, your pharmacist, the staff in your local hospital, receive affordable training and continuing education—not just for state licensure and specialty certification—but also to keep them up to date on new research, emerging technologies, best practices, and the latest advancements in their fields.
Our practice support teams ensure that medical practices, especially those in rural locations, have the help they need to evolve with the ever-changing health care system—from electronic health records to Medicaid reform—ultimately reducing costs and improving quality of care, no matter where you live.
NC AHEC library services support the clinical, educational, and research activities of medical professionals and students throughout the state. Rural family physicians in the mountains, nursing students near the coast, and mental health professionals in the piedmont all have access to AHEC librarians and the AHEC Digital Library.

Meaning better health care for you.
Our health careers pipeline helps ensure that North Carolina's health care professionals reflect the diverse range of the communities they serve. Pre-college students can envision—and prepare for—a more promising future, thanks to informative programs that introduce today's youth to the hundreds of available careers in health care.
And we don't stop there. We offer a wide range of student services to support health sciences students from many schools, colleges, and universities along the way. We provide medical, physicians assistants, nurse practitioners, and other health professions students with affordable housing while they're off-campus on rotations, and we ensure that qualified instructors—preceptors—are in place to teach the next generation of health care professionals.
In rural and underserved areas of the state, AHEC may also be your provider, training the next generation of providers in our community-based residency programs. We support 19 graduate medical education programs in family medicine, dentistry, and psychiatry. An average of 50 percent of AHEC residents decide to stay in North Carolina, helping to reverse the trend toward shortages and the uneven distribution of primary care physicians in the state's rural areas.

Meaning underserved populations and marginalized communities have greater access to care.
It means when there's a nationwide epidemic—from heart disease to diabetes, the Zika virus to the ongoing opioid crisis—there's a system, that thread, in place to ensure our state has every resource on the ground tackling the problem.
Meaning a safer state, for you.
AHEC means a lot. To a lot of people.
AHEC of a lot.
---
Find Your AHEC
NC AHEC serves all 100 counties.
---
2021-22 Year in Review