Find the North Carolina AHEC location that serves your region.
The NC AHEC program consists of the NC AHEC program office, based in Chapel Hill, a network of nine regional AHECs that collectively reach all 100 North Carolina counties, and the Duke AHEC program.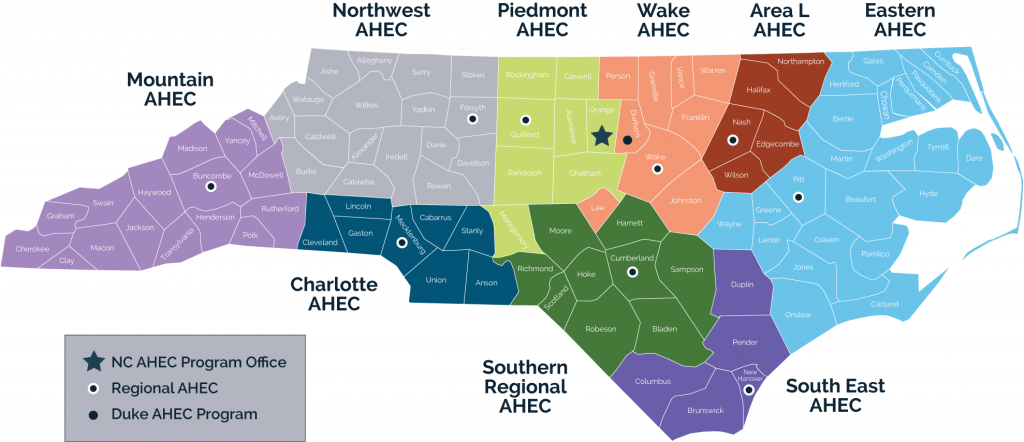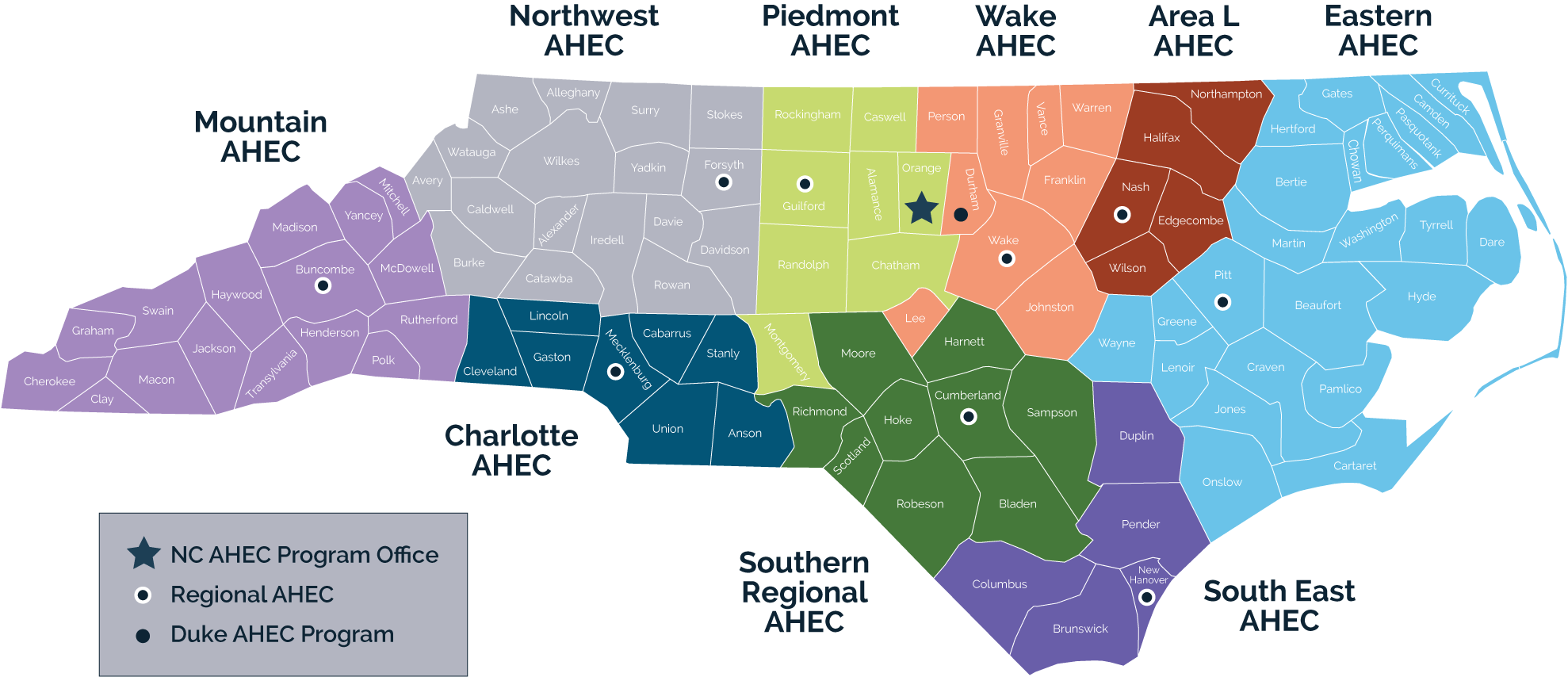 To find the AHEC that serves your region, view our map of AHEC locations or view AHEC locations by county, a list organized alphabetically by North Carolina county. Useful links and general information about each AHEC are provided below.
---
Area L AHEC

Counties Served: Edgecombe, Halifax, Nash, Northampton, Wilson
Mailing Address: 1631 S Wesleyan Blvd, Rocky Mount, NC 27804
Phone: 252-972-6958
Fax: 252-972-0419
Website: arealahec.org
---
South Piedmont AHEC
Formerly known as Charlotte AHEC

Counties Served: Anson, Cabarrus, Cleveland, Gaston, Lincoln, Mecklenburg, Stanly, Union
Mailing Address: 5039 Airport Center Pkwy, Charlotte, NC 28208
Phone: 704-512-6523
Fax: 704-512-6568
Website: southpiedmontahec.org
---
Eastern AHEC
Counties Served: Beaufort, Bertie, Camden, Carteret, Chowan, Craven, Currituck, Dare, Gates, Greene, Hertford, Hyde, Jones, Lenoir, Martin, Onslow, Pamlico, Pasquotank, Perquimans, Pitt, Tyrrell, Washington, Wayne
Mailing Address: 2600 W Arlington Blvd, Greenville, NC 27834
Phone: 252-744-5221
Fax: 252-744-5969
Website: easternahec.net
---
Piedmont AHEC
Formerly known as Greensboro AHEC

Counties Served: Alamance, Caswell, Chatham, Guilford, Montgomery, Orange, Randolph, Rockingham
Mailing Address: 1200 North Elm Street, Greensboro, NC 27401
Phone: 336-832-8025
Fax: 336-832-7591
Website: piedmontahec.org
---
Mountain AHEC (MAHEC)
Counties Served: Buncombe, Cherokee, Clay, Graham, Haywood, Henderson, Jackson, Macon, Madison, McDowell, Mitchell, Polk, Rutherford, Swain, Transylvania, Yancey
Mailing Address: 121 Hendersonville Rd, Asheville, NC 28803
Phone: 828-257-4400
Fax: 828-258-2097
Website: mahec.net
---
Northwest AHEC

Counties Served: Alexander, Alleghany, Ashe, Avery, Burke, Caldwell, Catawba, Davidson, Davie, Forsyth, Iredell, Rowan, Stokes, Surry, Watauga, Wilkes, Yadkin
Mailing Address: Wake Forest School of Medicine, Medical Center Blvd, Winston-Salem, NC 27517-1060
Phone: 336-713-7700
Fax: 336-713-7701
Website: wakehealth.edu/nwahec
---
South East AHEC

Counties Served: Brunswick, Columbus, Duplin, New Hanover, Pender
Mailing Address: 2511 Delaney Ave, Wilmington, NC 28403
Phone: 910-343-0161
Fax: 910-762-3521
Website: seahec.net
---
Southern Regional AHEC

Counties Served: Bladen, Cumberland, Harnett, Hoke, Moore, Richmond, Robeson, Sampson, Scotland
Mailing Address: 1601 Owen Drive, Fayetteville, NC 28304
Phone: 910-323-1152
Fax: 910-323-4007
Website: southernregionalahec.org
---
Wake AHEC

Counties Served: Durham, Franklin, Granville, Johnston, Lee, Person, Vance, Wake, Warren
Mailing Address: 3261 Atlantic Avenue #212, Raleigh, NC 27604
Phone: 919-350-8547
Fax: 919-350-0470
Website: wakeahec.org
---
Duke AHEC Program

The Duke AHEC Program is affiliated with the Southern Regional AHEC and collaborates with all AHEC centers across the state.
Mailing Address: Hock Plaza 1, DUMC 2722, Durham, NC 27710
Phone: 919-684-8676
Fax: 919-681-7504
Website: dukeahec.mc.duke.edu