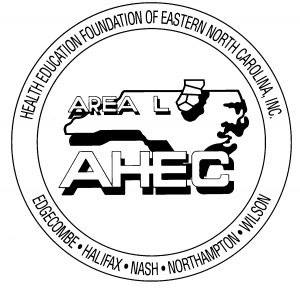 "My name is Badie Clark and for as long as I can remember, I wanted to follow in my grandfather's footsteps and become a doctor. I graduated with a degree in biology but was not optimistic that I had much of a chance of getting accepting into medical school, so I entered the workforce. After about 10 years, I decided to return to school and take the classes necessary to apply to medical school. I was in my early 30s and considered a non-traditional student and I had to do more than academics to 'prove' myself as a worthy applicant.
I reached out to Dr. David Webb, who was the president of Area L AHEC at the time, and an opportunity to work as a research assistant in a federally qualified health center in Jackson, NC was created. I was mentored by Dr. Jane McCaleb, a family practice physician, and Dr. Debby Futrell, a clinical pharmacist, on a daily basis on how to take care of underserved patients. They knew my desire to go to medical school and pushed me to learn as much as possible. Dr. Webb kept close tabs on me and found other learning opportunities through the AHEC office. I applied to medical school three years in a row and after the first two rejections, all of my AHEC mentors continued to encourage me to keep trying. Finally, the last year, I was accepted to the ECU School of Medicine.
Though I did not know it at the time, the lessons I learned at that clinic and at AHEC not only served me well in medical school and in my career but more importantly in life. I am proud to call each a mentor and a friend. I never knew this until right before he died, but Dr. Webb told me he went to my graduation and sat in the balcony; he did not want me to know he was there. Classic Dr. Webb, always putting others before himself.
After completing a pediatric residency at Pitt County Memorial Hospital and a Critical Care Fellowship at UVA Health Systems, I have returned to the Area L AHEC region and currently serve as the Medical Director – Inpatient Pediatrics and Neonatology at Nash UNC Health Care Systems."