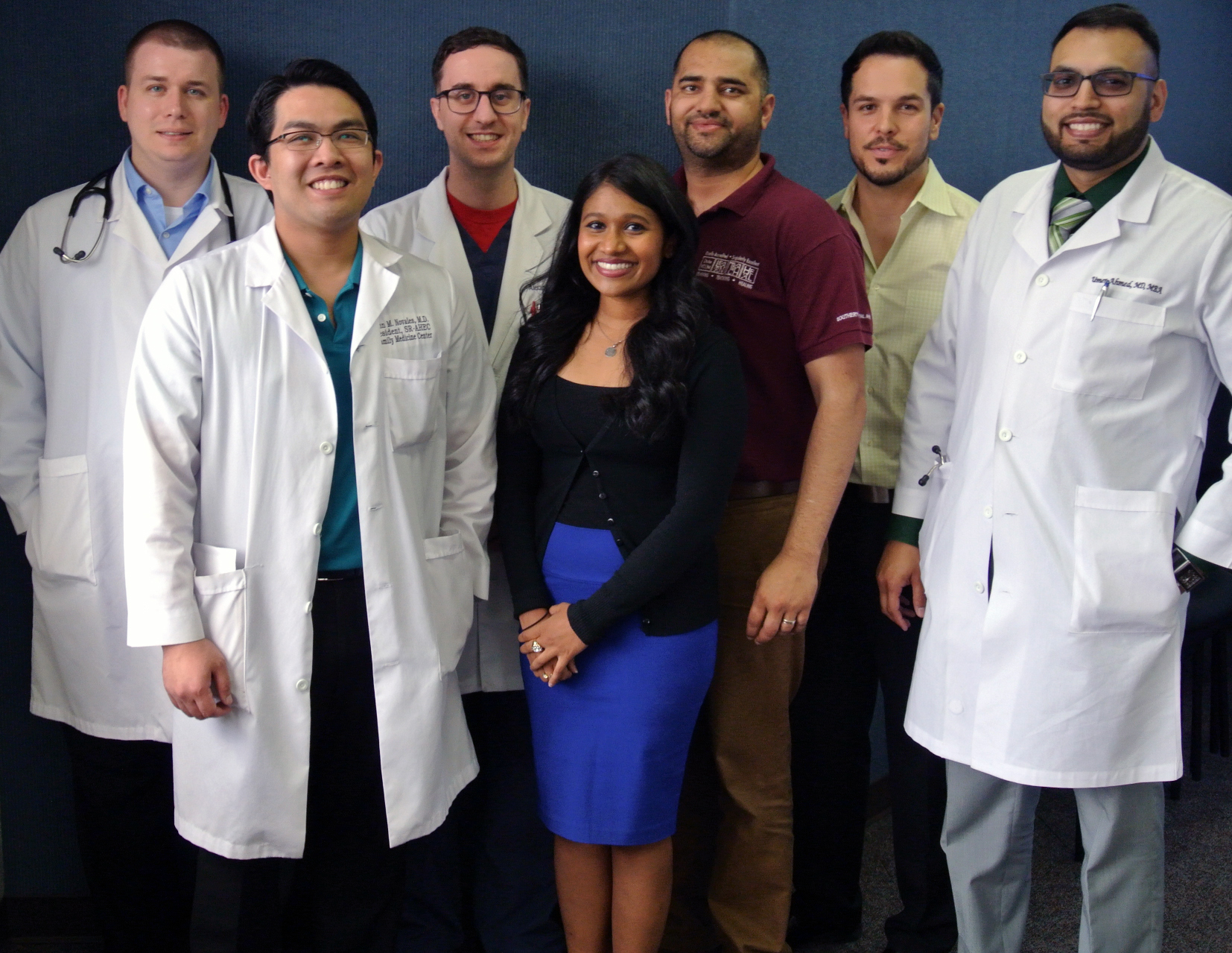 Photo above: James S. Lester, DO, with his fellow 2015 Southern Regional AHEC Residents. From left: John Novales, MD; Alexander C. Gelou, MD; Sandhya Manivannan, MD, who stayed at SR-AHEC as their first diabetes fellow; Suinder S. Bahia, MD; Aaron Pascual, MD; and Umer Ahmed, MD.
When James Lester arrived in Fayetteville as a third-year medical student during late summer 2011, he had no idea that his first rotation would be the beginning of an incredible AHEC journey. That path guided the lanky, baby-faced doctor to progress from nervous student to resident leader, resulting in the confident osteopathic family physician who now serves a member of the core faculty team at Southern Regional Area Health Education Center.
When he first arrived, Lester remembers feeling uneasy talking with patients. "But the people were so nice, and everyone I worked with really cared about my experience as a medical student, so I began to get more comfortable as I gained knowledge," he recalled. As a family physician, Lester advocates that today's students learn as much foundation material as possible. "It sets the tone as you go through your training; that foundation is really the key to being a good doctor in the future."
For clerkships, Lester recommends that students find a geographic area where they feel safe, a place where they can learn, and where they get lots of social support. "Southern Regional AHEC immediately felt like home, and that comfort was one of the biggest reasons I wanted to come back and do my residency," he said. During his fourth-year rotation, Lester experienced the excellence of the Southern Regional AHEC Family Medicine Residency Program, which initiated his desire to return to Fayetteville to fulfill his residency. "When the residency director took me under his wing, that really spurred me into coming here," he recalled. "It showed me that they cared about my learning, and they cared about me as a person."
Using the continuity of his experience, Lester helps current students and residents understand their responsibility for patients during the progressive phases of medical training. "As a student, you don't have the responsibility that you have as a resident or faculty," he emphasized. "You can move on to the next rotation, to the next patient, without being too involved." Residency is more intense, he said. "As a resident, you begin building a relationship with your patients and asking the deeper story to make sure everything is being taken care of." He said he wishes he would have been able tell himself as a student what he knows now. "I think back to my time as a student, and now I would say, 'My goodness, there is so much more pressure being the attending.'" However, because of these experiences, Lester feels that he can relate to his students and residents at each of their learning stages. "Sometimes, I recognize the subtleties; in the faces of the new interns, I can see some of the same fears I had. I can relate to how they are feeling. I offer advice; I tell them I felt that way, too."
When choosing a residency, Lester recommends that students make sure they are a good fit for the organization. "Anyone can be taught, but being in a place where you feel comfortable to receive that education is going to be really important," he iterated. For a successful residency experience, the 2015 program graduate believes that the relationship with other residents is most important. Lester remembered bonding with the other residents during his first year. "We did a lot of things together and really depended on one another," he reminisced. "Then, as we moved through, we developed relationships with students in the other classes."
During the third year of his residency, Lester discovered that he enjoyed teaching. "And it was just by happenstance, when I was talking with Dr. Kapoor about how I liked teaching, that a lightbulb went off in my head—this was what I wanted to do," he said, recalling his decision to stay after graduation as a faculty member in the Duke/SR-AHEC Residency Program.
Lester is also a believer in Southern Regional AHEC's emphasis on team-based care. It has helped him focus on a best practices approach in treating the whole patient. "The team concept really begins when a patient walks through the door," he insists. "Even the front desk can notice things and alert the nurse so they can follow up and connect with the patient before they see the doctor." He credits the team concept for providing an additional layer of trust with the patient and with the doctor. "Sometimes patients will share something with the nurse that they don't want to share their doctor. When I walk out of the room, I've heard patients ask the nurse, 'Do you trust him?' Then the nurse reaffirms that trust, and it really adds to the whole patient care experience."
Lester said he was in the right place at the right time to land a faculty position at an AHEC residency. "There is a variety of learning opportunities that you don't find anywhere else. You get programs like the digital library and continuing education support." He added that his CPR, ACLS, and BLS courses were all taken through Southern Regional AHEC's continuing education services. "It's nice that everything is together."
Another aspect he enjoys about working within the AHEC system is building relationships with patients and colleagues. "The other faculty members here make it very collegial, and the constant learning environment has really been very helpful for me."
And his patients are happy, too. "I'm happy he is staying. He is a great doctor," said the mother of one of his young patients. "When my two-year-old had a cut over his eye, Dr. Lester was patient, reassuring, and did well on his own," she recalled. "But I also noticed that he took instruction well from his preceptor." Now when she sees him, he also asks about her child. "So Dr. Lester's good at following up, as well," she said with a smile.