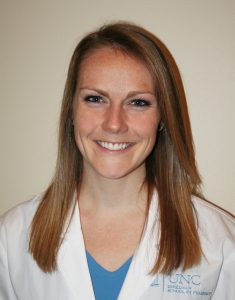 "My name is Mackenzie Dolan and I am a first year PharmD candidate at the UNC Eshelman School of Pharmacy.
AHEC has helped me ignite my passion for working in the health care industry. It has afforded me many opportunities that I would not have otherwise been exposed to.
I have always been searching for a career where I could help others. However, it wasn't until I worked as a summer intern at Futrell Pharmacy and the Rural Health Group that I truly found my passion in life and realized how I could best serve others. I was offered these amazing opportunities through Dr. Debby Futrell. Dr. Futrell has been very supportive of me in my personal and academic life and I view her as a mentor who has motivated and encouraged me to pursue a career in healthcare.
As my work at Futrell Pharmacy in Littleton, NC progressed, my knowledge of the clinical side of being a pharmacist grew as I began mixing and dispensing medicines. Just as importantly, my awareness of the patient-focus mindset of a pharmacist also grew as I began developing relationships with patients at the pharmacy. I observed the pharmacist dealing with challenging issues with quick thinking and precise execution. I also admired the pharmacist's and the staff's compassion towards the patients and the excellent collaboration of the team to better serve the patient.
This experience sparked a passion in me about the field of pharmacy, which was further enhanced when Dr. Futrell provided me the opportunity to work with Dr. Jane McCaleb. Dr. McCaleb showed me a different side of pharmacy. I absorbed everything that Dr. McCaleb taught me as we reviewed medical histories of patients. These experiences made me realize how diverse and dynamic the field of pharmacy is. I realized that upon obtaining my PharmD, I would have numerous pathways to explore within the field. I realized how health care is constantly evolving and pharmacy is at the center of it. My curiosity was ignited and I was even more motivated than ever to explore a career in pharmacy.
In addition, I had the opportunity to prepare high school students for the Pharmacy Technician Certification Exam on behalf of Area L AHEC. I loved the experience of working with students who have a similar passion as me and are eager to learn. Not only did I teach others during this experience, but I also received great advice from the facilitators and teachers in Area L AHEC.
I can confidently say that the opportunities and experiences that have led me to where I am today can be attributed to Area L AHEC. I am very grateful for these experiences. AHEC has made an incredibly positive impact in my life, not only professionally, but also personally. I am very fortunate to have been involved with Area L AHEC, and I have thoroughly enjoyed spending time with the members of the organization and learning from each of them. I am excited to continue my journey in becoming a pharmacist and a leader in health care."