Reaching Rural Communities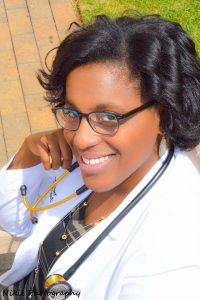 Erin M. Saner, MS
Northwest AHEC
I remember vividly a conversation I had with my mother in the sixth grade. She said, "If you are really serious about going to medical school, you have to start now. You have to be involved in the community starting now." Those words have propelled me through more than a decade of efforts focused on getting to know my community well and developing a variety of ways to give back and bring about positive change.
As a native of Yadkin and Wilkes counties, I have always appreciated the importance of family and community. Early on, I was fortunate to have formed close relationships with teachers and counselors who supported my career aspirations. Throughout high school, I appreciated the opportunity to be involved with NC HOSA and Northwest AHEC's Camp Med, which in turn strengthened my appreciation for the medical community and broadened my understanding of the many rewards a career in health care could offer.
I always knew I wanted to be a doctor, but my goals changed over the years. As a college student, I was involved in community service, music performance, and clinical research. My time as an undergraduate at Wake Forest cultivated an appreciation for variety and living a well-balanced life. I began applying to medical school with the goal of practicing pediatrics and incorporating music into my own practice. While these goals are still a part of my vision, my time as a medical student and involvement with Northwest AHEC has broadened my vision even further.
During spring break of my first year of medical school, I had the opportunity to participate in a medical mission trip to Port-au-Prince, Haiti, with the Christian Medical and Dental Association. This experience taught me that making a huge impact doesn't require abundant resources, rather an abundance of compassionate effort and dedication. From that point forward, I endeavored to find new ways to serve my community as a part of my career path.
The Share the Health Fair has been an ongoing effort led by medical students of Wake Forest School of Medicine and supported by Northwest AHEC to provide free health services to the uninsured and underinsured in Winston-Salem. As a volunteer and, later, a leader in this effort, I was amazed by the impact that we could make as a student-run effort here in Winston-Salem, and I wondered what more we could do. I remembered the community that supported me along the way and knew my next step would be to use my newly acquired skills and knowledge to give back to them.
The Boomer Share the Health Fair is the most recent extension of my vision, made possible by my colleagues at Wake Forest School of Medicine and with support from Northwest AHEC. The fair is an extension of free health screenings with a focus on health awareness and education in rural North Carolina. It is a partnership between medical students and the rural community. It is an opportunity for medical students to appreciate the unique reward of practicing medicine in rural areas and serving the underserved. As founder and co-chair of the Boomer Share the Health Fair, I have taken my next step as an advocate for community medicine. Thanks to my family, my community, and the generous support of Northwest AHEC, I look forward to my next step as a Family and Community Medicine physician right here in North Carolina.
View the Fox 8 news story about Erin and the Boomer Share the Health Fair.