Sisters of Mercy Find Refuge in MAHEC During Search for New EHR Vendor
"They (Mountain Area Health Education Center – MAHEC) were with us from start to finish through the EHR selection process — evaluating our needs, helping us sort out the pros and cons and, most importantly, guiding us in securing maybe the best deal ever!" states Jon Medin, Director of Growth & Marketing at Asheville-based Mercy Urgent Care & Occupational Medicine.
The Sisters of Mercy came to Western NC with the intent to open a school but they ever did. Instead, out of need for the community, they opened a tuberculosis sanitarium. That led to the formation of a hospital, which operated for nearly 100 years. Today, local, nonprofit Mercy Urgent Care provides high-quality, affordable, compassionate healthcare in its eight locations across Western NC and, internationally, provides medical teams and supplies to communities in need. Under their Compassionate Care program, patients without the means to pay for services can still receive the care they need. All of this important work is supported by the Catherine McAuley MERCY Foundation.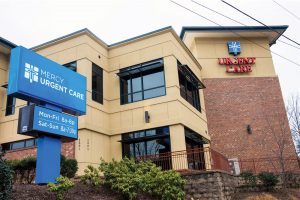 With this long-standing history in the community as a trusted and fiscally responsible community partner, Mercy knew it needed to be judicious when spending funds to upfit their medical record system. Electronic Health Records (EHRs) are the next step in the continued progress of healthcare that enable providers to make better decisions and provide better care. Selecting the most affordable EHR system that also met the needs of their staff and patients was of utmost importance to Mercy. And, with over 500 vendors offering some type of EHR product, they would need help sorting through the vendor list.
Good news for them, NC AHEC Practice Support coaches have helped over 1,000 practices successfully address their practice support needs, including EHR needs. Local MAHEC coaches Terri Roberts, Mark Holmstrom, and Wakeena Sweat provided expertise and consultation at every turn, from start to finish. They guided Mercy through vendor demos, vendor selection, and, finally, negotiations with the final vendor. Together, tirelessly, Mercy and MAHEC secured what may go down in history as the "best deal ever"!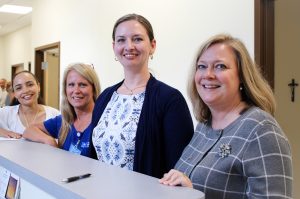 Mercy's due diligence, patience, and fortitude, together with MAHEC's support, encouragement, and expert knowledge proved to be a winning combination. And a wonderful relationship was forged. The Sisters would be proud that, once again, history was made.
Photo at the top of this article features local MAHEC coaches Terri Roberts, Mark Holmstrom, and Wakeena Sweat.