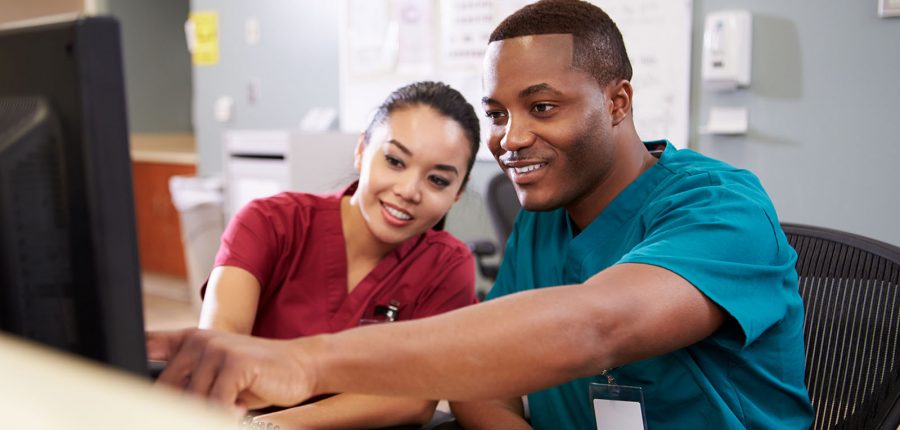 Return to nursing or reactivate your license with NC AHEC's RN refresher program.
NC AHEC's Registered Nurse refresher course is online and self-paced so that you can balance work, life, and your career. The NC AHEC RN Refresher Program consists of a 24-module, self-paced review of nursing care for a full range of common adult health problems and a 140-hour clinical practicum. This program is a collaborative effort of NC AHEC and the UNC-Chapel Hill School of Nursing, and Digital and Lifelong Learning.
The NC AHEC Registered Nurse (RN) Refresher Program was developed in the late 1980s in response to an ongoing nursing shortage. Between 1990 and 2012, more than 3,400 nurses enrolled in the RN Refresher Program offered through each of the nine regional AHECs and the University of North Carolina at Chapel Hill. Almost 2,500 of those enrollees completed the didactic portion of the program, and 1,650 also completed the clinical component. Upon successful completion of both the didactic and clinical portion of the course, participants are eligible to apply for reinstatement of their nursing licenses through the North Carolina Board of Nursing.
---
Nurse Refresher Program Contacts
Contact the RN refresher coordinator at the regional AHEC for your county to obtain more information and to determine program eligibility in your region.
Orange, Durham, Chatman, and Person counties
Annie Taft, Senior Support Specialist
Email: ataft@email.unc.edu
Phone: 919-966-3736
Area L AHEC
Counties Served: Edgecombe, Halifax, Nash, Northampton, Wilson
Patty Collins, MAEd, BSN, RN
Email: Patty.Collins@arealahec.org
Phone: 252-972-6958
Charlotte AHEC
Counties Served: Anson, Cabarrus, Cleveland, Gaston, Lincoln, Mecklenburg, Stanly, Union
Kathryn Fitzpatrick, DNP, RN
Email: kathryn.fitzpatrick@atriumhealth.org
Phone: 704-512-6579
Eastern AHEC
Counties: Beaufort, Bertie, Camden, Carteret, Chowan, Craven, Currituck, Dare, Gates, Greene, Hertford, Hyde, Jones, Lenoir, Martin, Onslow, Pamlico, Pasquotank, Perquimans, Pitt, Tyrrell, Washington, Wayne
Laura P. Bliley, MSN, RN
Email: blileyl@ecu.edu
Phone: 252-744-5216
Greensboro AHEC
Counties Served: Alamance, Caswell, Guilford, Montgomery, Randolph, Rockingham
Shawn Houck, MSN, RN
Email: shawn.houck@conehealth.com
Phone: 336-832-3947
Mountain AHEC
Counties Served: Buncombe, Cherokee, Clay, Graham, Haywood, Henderson, Jackson, Macon, Madison, McDowell, Mitchell, Polk, Rutherford, Swain, Transylvania, Yancey
Katie Neligan, MSN, RN, CNL, PCCN
Email: katie.neligan@mahec.net
Phone: 828-257-4458
Northwest AHEC
Counties Served: Alexander, Alleghany, Ashe, Avery, Burke, Caldwell, Catawba, Davidson, Davie, Forsyth, Iredell, Rowan, Stokes, Surry, Watauga, Wilkes, Yadkin
Ellen M. Hohf, MSN, RN, CHSE
Email: ehohf@wakehealth.edu
Phone: 336-713-7720
South East AHEC
Counties Served: Brunswick, Columbus, Duplin, New Hanover, Pender
Jennifer Danks, MSN, RN
Email: jennifer.danks@seahec.net
Phone: 910-667-9335
Southern Regional AHEC
Counties Served: Bladen, Cumberland, Harnett, Hoke, Moore, Robeson, Richmond, Sampson, Scotland
Tonja Teter BSN, RN
Email: Tonja.Teter@sr-ahec.org
Phone: 910-678-7246
Wake AHEC
Counties Served: Franklin, Granville, Johnston, Lee, Vance, Wake, Warren
Kathy Clark MS, BSN, RN
Email: kgclark@wakeahec.org
Phone: 919-350-0481