Healthy North Carolina 2030
What is Healthy North Carolina 2030 and the NC State Health Improvement Plan?
Every 10 years, the state of North Carolina embarks on a goal setting process to identify the indicators or measures of good health and well-being for the people of our state over the next decade. The culmination of this process for the current decade, led by the North Carolina Institute of Medicine (NCIOM) and Department of Health and Human Services (DHHS) is known as Healthy North Carolina 2030 (HNC 2030). These indicators were selected based on evidence of impact on health and with input from over 400 experts and community members. In developing HNC 2030, the team recognized the important roles of health behavior, social and economic factors, and the physical environment in contributing to health care. HNC 2030 serves as the foundation for the North Carolina State Health Improvement Plan (NC SHIP).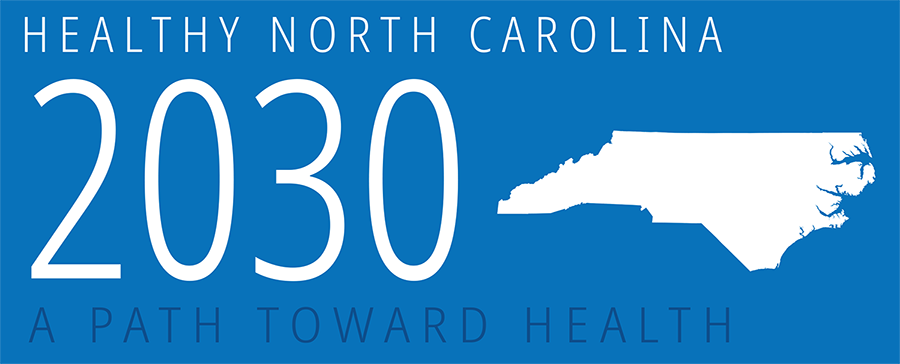 What is the role of NC AHEC?
NC AHEC is a key partner for NC SHIP implementation. Through programming designed to contribute to a healthier NC, much of our statewide work aligns with the indicators identified in HNC 2030.
Our programming:
Supports the improvement of statewide Behavioral Health outcomes through educational training and practice support.
Delivers educational programming to address substance abuse issues through Opioid Screening, Buprenorphine training and Tobacco and Alcohol use treatment/education.
Helps primary care practices close care gaps with adult diabetes screening rates, pediatric immunizations and timely access to prenatal care at no cost.
Supports medical

residency

training programs, aiming to increase

residency

positions in rural areas as a means of decreasing health inequities. This is done via programmatic and financial assistance.
Provides educational courses addressing the community health disparities outlined in NC SHIP, delivering the training needed to keep NC's providers current within emerging public health issues.
This brief video, featuring Dr. Adam Zolotor, NC AHEC Associate Director for Medical Education and former President and CEO of the NCIOM, provides a high-level overview of HNC 2030 and its impact on the health of individuals in North Carolina.
Where can I get more information at one of our Regional AHEC Centers?
Please view this directory to find the contact at your Regional AHEC for each HNC2030 indicator that aligns with our statewide work. We have designated contacts for indicators 5, 10-15, and 17-19.