NC AHEC's Jacqueline Wynn Named Interim CEO of National AHEC Organization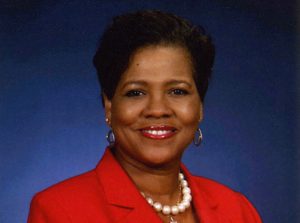 Effective March 21, 2018, Jacqueline R. Wynn, MPH, AHEC Health Careers and Workforce Diversity Director, was appointed interim chief executive officer of the National AHEC Organization (NAO).
"I am honored and excited to serve NAO in this capacity and will focus on providing essential leadership and support to the NAO board in the areas of strategic planning and partner development and engagement, as well as supporting NAO members, especially in continuing to convey the important messages of the value we add to communities across the United States," stated Wynn.
Wynn has had many leadership roles with NAO, most recently serving as president for two successive years. She played a key role in leading the engagement of the Health Resources and Services Administration (HRSA) in the development of the nationwide AHEC Scholars Program. As interim CEO, she will serve as the first point of contact for the organization, as the spokesperson for NAO, and as chief liaison for developing relationships with HRSA and Congress and other organizations and associations with a shared interest in health care. Wynn will also continue her focus on the AHEC Scholars Program and NC AHEC's statewide health careers service line, and she will continue her work as liaison to the Schools of Public Health and Dentistry at UNC Chapel Hill.
"I embrace this opportunity to serve as CEO with the passion, energy, enthusiasm, and commitment that has resonated in my 34 years of AHEC service at the center level, the program office level, and on NAO committees and as a former member of the NAO board," added Wynn.
"I am proud of this appointment. It recognizes Jacqueline's substantial contributions to the NAO and to our national health policies," shared Dr. Warren Newton, MD, MPH, president of NC AHEC and associate dean of the UNC Chapel Hill School of Medicine. "I believe this appointment is also in the best interests of North Carolina AHEC as we help shape the NC AHEC Scholars Program and serve as leaders in the national AHEC community."
About NAO
The Area Health Education Centers Program was developed by Congress in 1971 to recruit, train, and retain a health professions workforce committed to underserved populations. The AHEC program helps bring the resources of academic medicine to address local community health needs. The strength of the AHEC network is its ability to creatively adapt national initiatives to help address local and regional health care issues. Visit nationalahec.org for more information.
About NC AHEC
The North Carolina Area Health Education Centers Program was established in 1972 to meet the state's health and health workforce needs. NC AHEC's Program Office, nine regional centers, and the Duke AHEC Program provide educational programs and services that bridge academic institutions and communities to improve the health of the people of North Carolina with a focus on underserved populations. Visit ncahec.net to learn more about NC AHEC's impact in your region.
---