WNC Colleges and Universities Partner with Academic Health Center to Combat COVID
Last spring, when COVID-19 outbreaks emerged on college campuses across the nation, it was natural for UNC Asheville and UNC Health Sciences at MAHEC to collaborate on a COVID response. They were already working closely together as partners in UNC Gillings School's Master of Public Health Program located on the Mountain Area Health Education Center (MAHEC) campus. A less obvious choice was to reach out to other institutes of higher education (IHE) in the region to collaborate on COVID-19 containment strategies. But this is exactly what UNC Asheville Chancellor Nancy J. Cable and MAHEC CEO Jeff Heck, MD, did.
The response from chancellors and presidents was immediate and enthusiastic, and a unique collaborative was created that includes leadership and faculty from Brevard College, Mars Hill University, Montreat College, Warren Wilson College, Western Carolina University, and UNC Asheville.
"It is remarkable to have public and private institutions from all over the region work together with public health professionals to keep their campuses and communities safe," shared MAHEC CEO Jeffery Heck, MD. "Their diligence has kept thousands of Western North Carolinians and students safe, employed, and able to learn during a very challenging time."
Collectively, these institutions support approximately 22,000 students, faculty and staff in four Western North Carolina (WNC) counties. Working together, their goal was singular: to keep campuses open and safe places to learn and work.
A Unique Public-Private Partnership
Since April, chancellors, presidents, faculty and staff have met virtually with MAHEC leaders and each other to review public health guidance and share best practices, resources, and challenges. The open sharing and mutual encouragement in these weekly meetings and COVID trainings have been a source of emotional support for administrators and faculty stretched thin from the additional demands placed on them by the pandemic.
"Our innovative collaboration with the presidents and chancellors of the six private and public four-year residential universities and colleges in WNC and MAHEC has been focused on adopting best practices in virus mitigation and health protocols on our campus," said UNC Asheville's Chancellor Cable. "Through demonstrated leadership in the UNC System, we've been successful because of their good advice, our institutional cooperation, and our shared culture of care and respect for one another across our campuses."
As the fall semester drew to a close, their coordinated efforts appeared to pay off. Students were able to attend some classes in person and participate in campus life, but the total number of positive cases has remained low with institutions like Warren Wilson College experiencing no campus outbreaks and others like UNC Asheville with small and well-contained numbers of cases. Their success is thanks, in part, to an innovative student-led prevention program.
Student-Powered Prevention
Early in the pandemic, it became clear that measures like social distancing and mask wearing are the best defense against the spread of COVID-19. On college campuses, the ideal people to encourage these behaviors and create a culture of health and safety are students themselves.
With the support of a $610,000 grant from the NC Policy Collaboratory at UNC Chapel Hill and funding from MAHEC, 94 student health ambassadors (SHAs) were recruited, hired, and trained to provide COVID-19 education, health prevention information, and student support at all six partner institutions.
"Ambassadors provide peer education and cheer students on when they are doing well," explained Amy Lanou, PhD, executive director of the North Carolina Center for Health and Wellness at UNC Asheville who oversaw the initial SHA training. "We didn't want to put them in a policing role, which isn't very effective anyway, but we did want to equip them with bystander intervention strategies they could use if they saw concerning behaviors."
SHAs participated in 10 hours of training over the summer and receive ongoing support from fellow ambassadors and through cross-campus huddles with MAHEC and college staff and faculty.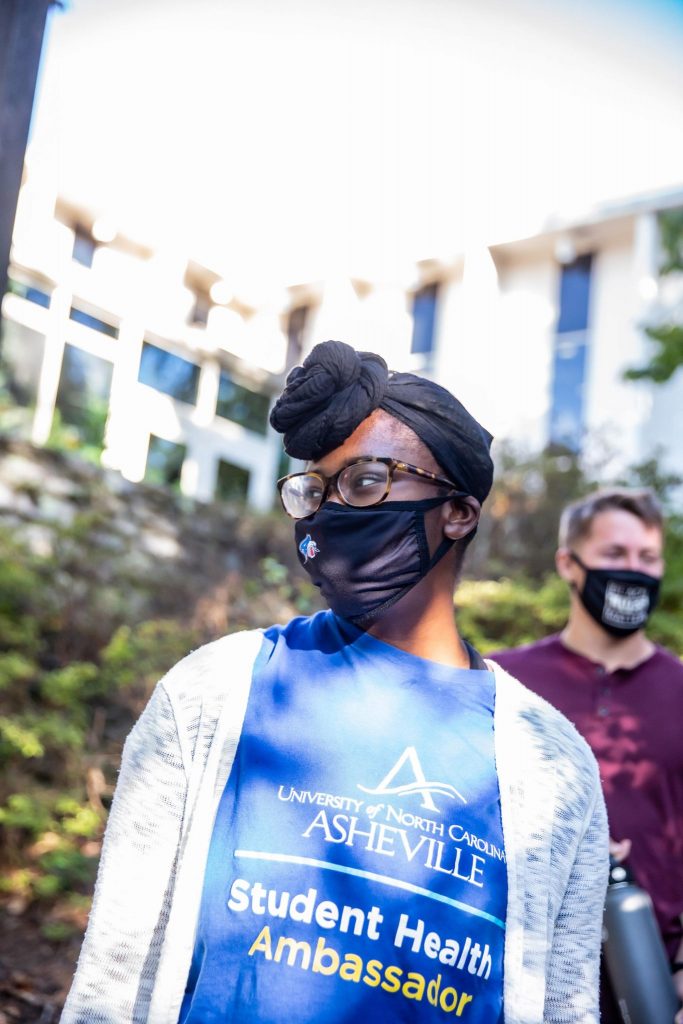 "We were able to ensure the health and safety of our campus because of the students, faculty, and staff who took the virus seriously and followed our health and safety protocols," said President of Warren Wilson College Lynn Morton.
While the goal is the same across campuses—to promote a culture of health and safety—SHA teams were encouraged to be creative in how they achieved this goal. For example, at Western Carolina University and Brevard College, SHAs conducted daily wellness walks to model mask wearing, social distancing, and healthy exercise. At Warren Wilson College, ambassadors hosted weekly virtual drop-in sessions. At Mars Hill University, SHAs handed out Healthy Lion stamps that could be redeemed for swag to reward students for safe behaviors. Virtual game and movie nights at Montreat College helped reduce student isolation. And at UNC Asheville, SHAs helped coordinate music and drama performances outside quarantine housing to lift students' spirits. All six schools planned a variety of Halloween activities from mask decorating contests to socially distanced scavenger hunts to keep students on campus and help keep them safe.
"One common thing amongst all students right now is feeling lonely and anxious about the unknown," shared Alexis Baker, an ambassador and accounting major at UNC Asheville.
SHAs worked hard to reduce these mental health impacts. They delivered meals and care packages and developed on online pen pal program for students in quarantine and isolation. Health communication was another big focus and takes a variety of forms including dedicated social media pages and prevention messaging, in-person and virtual support stations, class presentations, and individual wellness coaching sessions. Over the past semester, SHAs logged thousands of hours and hosted more than 90 prevention and wellness activities across six campuses. They have continued to use social media and other forms of communication to keep students engaged and safe over winter break.
Just-in-Time Training & Support
Coronavirus isn't the only thing that was novel this year. Colleges and universities had to rapidly reinvent the way they deliver education. Most institutions were already using online platforms like Moodle to deliver some course content and to facilitate faculty-student communication, but the pandemic accelerated the use of virtual instruction methods. Some partners moved most of their classes online, others offered a combination of online and in-person options with enhanced COVID protocols.
In the absence of specific CDC guidance, UNC Health Sciences at MAHEC developed a virtual Project ECHO training series for administrators, faculty, and environmental services staff that launched in May. Two hundred participants from the six institutions attended the first ECHO session that focused on how to prevent, identify, and respond to suspected COVID-19 cases. Subsequent ECHOs addressed campus prevention strategies, health equity, outbreak and case management, social determinants of health, campus re-opening, and guidance for student gatherings and events. Each session included guided case discussions and opportunities for administrators and faculty to share successes and offer mutual support.
MAHEC supplemented these ECHO trainings with an IHE Library Guide that included curated resources and best practices for campus reopening, testing, contact tracing, isolation and quarantine, protection of high-risk populations, and student wellness and athletics. MAHEC's COVID Community Resource Team also connected IHE partners with clinical resources for testing and personal protective equipment.
A Strategic Investment in Regional Health
While North Carolina's General Assembly didn't have a global pandemic in mind when they authorized funding to establish UNC Health Sciences at MAHEC, this decision and strong partnerships like the one forged by WNC colleges and universities may have helped our region weather COVID-19 better than other areas of the country.
When students return to campus in January, SHAs and faculty will be there to welcome and support them including by encouraging safe behaviors and COVID-19 vaccination when it becomes available. Meanwhile, regional IHE leaders have continued to collaborate over the break to ensure students, faculty, and staff make it safely through the rest of the academic year.
To read more about this unique IHE collaboration, please see these stories published by North Carolina Health News, the NC Policy Collaboratory, AP News, and WLOS TV-13 News. For more information about the SHA program, please contact Amy Lanou, PhD, at alanou@unca.edu.
---