NC AHEC Selected for National Pilot Project to Address Training Needs of Medical Students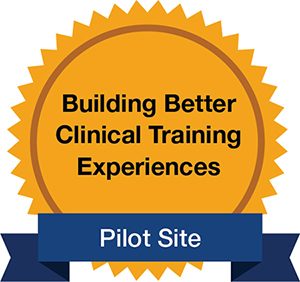 NC AHEC was one of 15 sites selected to participate in a national pilot project called "Building Better Clinical Training Experiences: A Learning Collaborative." Family medicine departments across the state will collaborate to pilot processes and resources to reduce the administrative burden associated with allowing students to complete clinical rotations at community practices.
The pilot project is led by the Society of Teachers of Family Medicine (STFM) and is funded by the American Board of Family Medicine Foundation.
"There is a critical shortage of clinical training sites for students," said STFM President Beat Steiner, MD, "and it's important for students to learn how to take care of patients in community settings so they'll be prepared for future clinical practice."
The goals of the two-year project are to:
ease the administrative burden on community-based faculty by standardizing documentation and the preparation of students,
engage community-based faculty,
encourage and reward teaching, and
enhance the quality of training at community sites.
The NC AHEC pilot will build on the Consortium for Clinical Education & Practice orientation and onboarding model that is currently used by dozens of clinical sites across the state. The CCEP model, formed by Wake AHEC in 2008, allows health science students to complete the orientation and credentialing process one time for acceptance at any participating clinical site. Having a common "passport" streamlines the process, easing the administrative burden on community faculty and training sites while making it easier for students to complete the onboarding process. CCEP is widely used by nursing and allied health schools, but there is growing interest from physician assistant and medical schools.
"The CCEP model will be integral in paving the way not only for this pilot, but for all health science schools in standardizing student onboarding requirements across the state," noted NC AHEC Director of Student Services Alan Brown. "Creating a common passport that captures a students' training (HIPAA, blood borne pathogens, etc.) and documents their compliance with drug screenings, criminal background checks, immunizations, liability insurance and other credentialing requirements, is a win-win for everyone—students, sites, and schools.
All five North Carolina Medical Schools (Campbell, Duke, East Carolina, UNC-Chapel Hill, and Wake Forest) welcomed the opportunity to participate in this pilot and will be attending the first planning meeting on May 6, 2019, in Chapel Hill.
The project will also test other onboarding resources and processes, such as education for students on how to hit the ground running at community-based clinical sites and three online training modules: "How to Create a High-Quality Note in the Medical Record," "How to Perform Medication Reconciliations," and "Motivational Interviewing."
This project is one component of an initiative designed to address the nationwide shortage of clinical training sites for medical students. For more information about the pilot project at STFM, visit stfm.org/bettertrainingexperiences. A complete list of selected sites is available here. For specific information about the NC AHEC pilot, contact Alan Brown at alan_brown@ncahec.org.
About NC AHEC
The North Carolina Area Health Education Centers Program was established in 1972 to meet the state's health and health workforce needs. NC AHEC's Program Office, nine regional centers, and the Duke AHEC Program provide educational programs and services that bridge academic institutions and communities to improve the health of the people of North Carolina, with a focus on underserved populations. Visit ncahec.net to learn more about NC AHEC's impact in your region.
About STFM
The Society of Teachers of Family Medicine is a national community of academic leaders committed to developing an accomplished family medicine workforce, prepared to serve as the foundation of America's health care system. Members include physicians, physician assistants, nurse practitioners, behavioral health specialists, researchers, nurses and other health care professionals, health system executives, administrators, fellows, residents, students, and others involved in the education of family physicians. Visit stfm.org for more information.
---