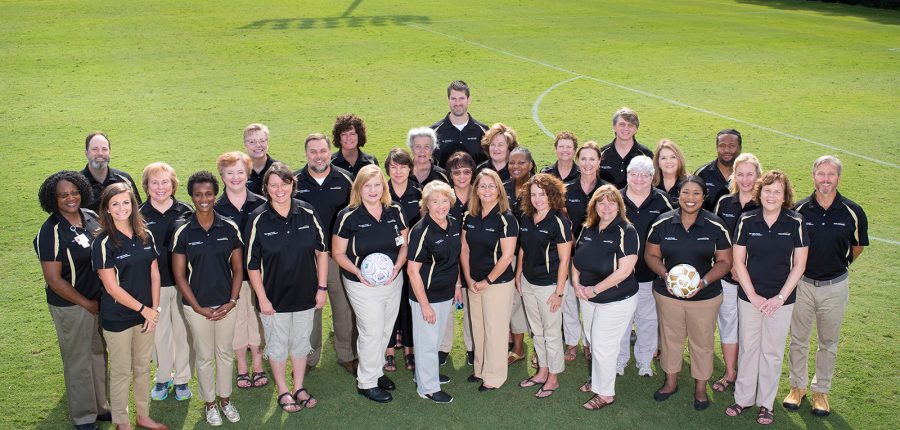 NORTHWEST AHEC at a glance
Northwest AHEC provides accredited health education and training activities across the continuum of education—high school, post-secondary school, graduate/professional school, and continuing education to health professionals.
MISSION
The Northwest Area Health Education Center is an educational and training program designed to enhance the health of the public in its 17-county region by improving the supply, distribution, and quality of health and human service personnel—especially in primary care—through diverse community/academic partnerships.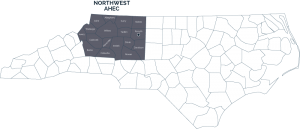 SERVICE AREA
Northwest AHEC's service area encompasses 17 counties in Northwest North Carolina: Alexander, Alleghany, Ashe, Avery, Burke, Caldwell, Catawba, Davidson, Davie, Forsyth, Iredell, Rowan, Stokes, Surry, Watauga, Wilkes, and Yadkin.
SUB-REGIONAL BASES
In order to allow easy access to services over a large geographic area, Northwest AHEC utilizes two sub-regional bases at community hospitals: Watauga Medical Center (part of the Appalachian Regional Healthcare System) in Boone and Catawba Valley Medical Center in Hickory. These regional facilities house library collections, staff, and classroom space for continuing education and other activities.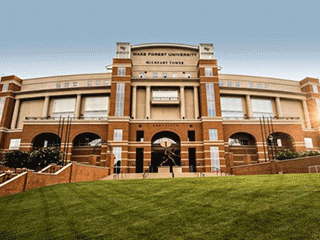 CORE SERVICES & DISTINCTIVE PROGRAMS
Northwest AHEC's core services and distinctive programs include:
Health Careers and Workforce Diversity: Camp Meds, Brenner Fit® (Families in Training Culinary Camp)
Student and Preceptor Support
Graduate Management Education and Patient Services: The Community Plunge, Share the Health Fair, Boomer Share the Health Fair, Health Care Hackathon Model
Continuing Professional Development: The Clinical Teaching Associate (CTA) Program, Community Health Partnerships' Program, Counseling for Change: An Online Tobacco Smoking Cessation Course, Perinatal Post, and the North Carolina Annual STD Update
Practice Support Services
Library Services
Instructional Technology Services
LEADERSHIP & GOVERNANCE
Northwest AHEC is formally part of and reports to the dean of the Wake Forest School of Medicine. Currently celebrating their 45th year, Northwest AHEC remains a formal public-private partnership between the deans of the University of North Carolina at Chapel Hill School of Medicine and Wake Forest School of Medicine. Wake Forest School of Medicine is part of the Wake Forest Baptist Medical Center, which is governed by a full Board of Trustees.
Michael Lischke, EdD, MPH, Richard Janeway, MD, Distinguished Director, Northwest AHEC
Reed Burger, MBA, CHFP, Assistant Director, Finance and Administration
Nedra Edwards Hines, MHA, Assistant Director, Continuing Professional Development
Christopher Jones, DrPH, MHA, Assistant Director, Quality and Informatics
Jennifer Casey, MBA, Assistant Director, Programs and Development
CONTACT INFORMATION
Mailing Address: Wake Forest School of Medicine, Medical Center Blvd, Winston-Salem, NC 27157-1060
Physical Address: 475 Deacon Blvd, 3rd Floor, McCreary Tower, Winston-Salem, NC 27105
Phone: 336-713-7700
Email: ahecmarketing@wakehealth.edu
Website: northwestahec.wakehealth.edu
FOLLOW NORTHWEST AHEC
Facebook: facebook.com/NWAHEC
Twitter:  twitter.com/NorthwestAHEC | @NorthwestAHEC