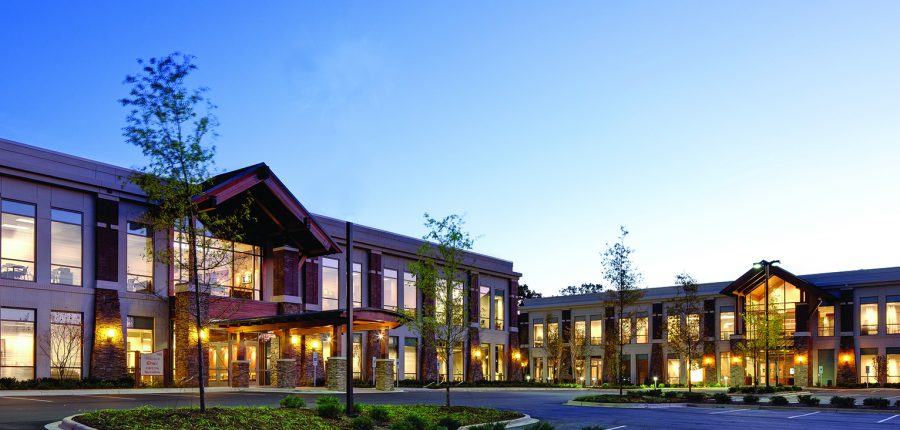 MOUNTAIN AHEC at a glance
MAHEC is the center of excellence for improving the health of Western North Carolina. Often described as a pipeline for health care training, MAHEC connects middle and high school students to health career opportunities and health science students to communities. MAHEC's residency programs train the best and the brightest graduates to provide excellent, compassionate health care, and thousands of health care professionals are connected to better health through MAHEC's regional- and national-level continuing education programs.
MISSION
MAHEC'S mission is to train the next generation of health care professionals for Western North Carolina through quality health care, innovative education, and best practice models that can be replicated nationally.

SERVICE AREA
Located in Asheville and established in 1974, MAHEC serves health care professionals, students, and institutions throughout a 16-county region in Western North Carolina. Counties served are Buncombe, Cherokee, Clay, Graham, Haywood, Henderson, Jackson, Macon, Madison, McDowell, Mitchell, Polk, Rutherford, Swain, Transylvania, and Yancey.
SUB-REGIONS
MAHEC employs more than 600 faculty and staff members and has 10 physical locations in the 16-county region. View MAHEC locations.
CORE SERVICES & DISTINCTIVE PROGRAMS
MAHEC operates patient care offices, residency programs, and fellowships in family medicine, obstetrics and gynecology, dental, general surgery, psychiatry, sports medicine, and hospice/palliative medicine. Other core services include:
Continuing Professional Development,
Health Careers and Student Services,
Practice Consulting,
Library Services, and
Research.
Distinctive MAHEC programs include Project CARA, Centering Pregnancy, Centering Parenting, Opioid Initiatives, School Nurses, Simulation Center, MMMP, Project ECHO, IPV, Interconception Care, and group visits for metabolic conditions, substance use disorders, chronic pain, diabetes, and those with high-utilization rates at the ER.
GOVERNANCE & LEADERSHIP
Mountain Area Health Education Center, Inc. (MAHEC) is a 501(c)(3) not-for-profit organization. Per MAHEC bylaws, the Board of Directors serves as MAHEC's governing body and establishes the strategic policy and direction for the organization. Board membership includes six representatives of Mission Health System, one representative of Pardee Hospital, 10 at-large representatives, and the president/CEO.
Jeff Heck, MD, MAHEC CEO
Dan Frayne, MD, MAHEC President
Steve Hulkower, MD, Director, Division of Family Medicine
Beth Buys, MD, Director, Department of Obstetrics and Gynecology
Frank Castelblanco, RN, DNP, Director, Division of Regional Services
Robyn Latessa, MD, Director and Assistant Dean, UNC School of Medicine, Asheville Campus
Bryan Hodge, Director, Rural Health Initiative
Rachel Bemis, Director, Center for Health Professions Education
CONTACT INFORMATION
Address: 121 Hendersonville Road, Asheville, NC 28803
Phone: 828-257-4400
Email: webmaster@mahec.net
Website: mahec.net
FOLLOW MAHEC
Facebook
facebook.com/MAHECEd
facebook.com/MAHECPreceptors
facebook.com/MAHECNewbridge
facebook.com/MAHECBiltmore
facebook.com/MAHECSportsMedicine
facebook.com/MAHECDental
facebook.com/MAHECFMResidency
facebook.com/MAHECObGyn
facebook.com/mahechealthcareers
Twitter
twitter.com/mahecwnc | @mahecwnc