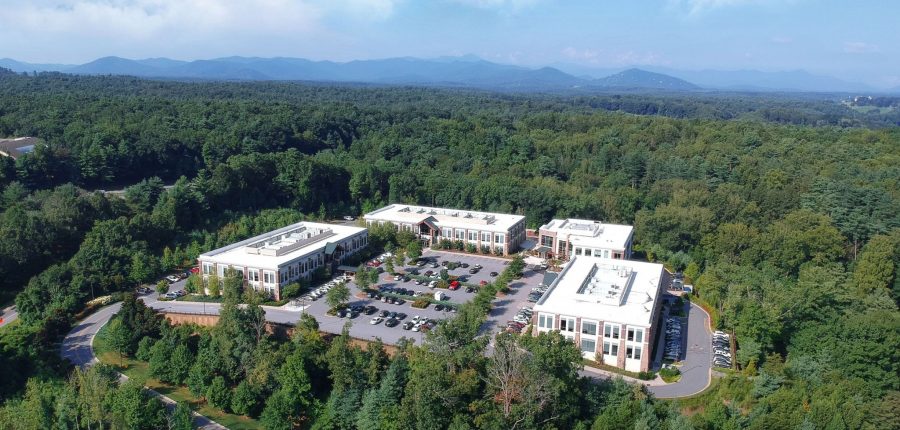 MOUNTAIN AHEC at a glance
Located in the mountains of Western North Carolina, MAHEC is a national leader in innovative team-based primary care, medical education, and rural health workforce development. MAHEC's main campus in Asheville, NC is home to primary care practices, graduate medical education programs, continuing professional development programs, a state-of-the-art medical simulation center, and UNC Health Sciences at MAHEC, an academic health center that promotes interprofessional education and practice through programs affiliated with the University of North Carolina's top-ranked schools of medicine, public health, pharmacy, and dentistry.
MISSION
MAHEC provides and supports educational activities and services in the western part of the state with a focus on primary care in rural communities and those with less access to resources to recruit, train, and retain the workforce needed to create a healthy North Carolina.

SERVICE AREA
MAHEC serves patients, healthcare professionals, learners, and community partners throughout a 16-county region in Western North Carolina. Counties served are Buncombe, Cherokee, Clay, Graham, Haywood, Henderson, Jackson, Macon, Madison, McDowell, Mitchell, Polk, Rutherford, Swain, Transylvania, and Yancey.
SUB-REGIONS
MAHEC employs more than 950 faculty and staff members at its patient care practices, academic health center, and rural and hospital-based residency and fellowship programs. View MAHEC locations.
CORE SERVICES & DISTINCTIVE PROGRAMS
MAHEC operates patient care offices and residency programs in dentistry, family medicine, general surgery, internal medicine, obstetrics and gynecology, pharmacy, psychiatry, and transitional year. MAHEC's fellowship programs include addiction medicine, maternal fetal medicine, psychiatry, rural medicine, sports medicine, and surgical critical care.
Other core services include:
Continuing Professional Development,
Health Careers Pipeline Programs,
AHEC Scholars,
Student Services,
Practice Consulting,
Library Services, and
Research.
School of Medicine Asheville Campus
Master of Public Health Program (UNC Gillings School – UNC Asheville)
Adams Rural Oral Health and Wellness Scholars (School of Dentistry)
Distinctive MAHEC programs include the Center for Health Aging, Centering Pregnancy, Certified Community Behavioral Health Center, Project CARA, Minority Medical Mentoring Program, Post-Acute COVID-19 Care Clinic, Project ECHO virtual case-based learning, Project PROMISE (rural health careers programming), rural health workforce initiatives, a state-of-the-art medical simulation center, and statewide initiatives to expand access to substance use disorder treatment.
GOVERNANCE & LEADERSHIP
Mountain Area Health Education Center, Inc. (MAHEC) is a 501(c)(3) not-for-profit organization. MAHEC's board of directors, comprised of community leaders and representatives from across Western North Carolina, guides the strategic growth and direction of the organization.
William Hathaway, MD, MAHEC CEO
Dan Frayne, MD, MAHEC President
Francisco Castelblanco, RN, DNP, AHEC Director; Chair, Department of Continuing Professional Development at UNC Health Sciences at MAHEC
Zach Levin, CPA, MAHEC Chief Financial Officer
Felicia Hipp, RN, MSN, MAHEC Chief of Clinical Operations
Steve Buie, MD, Chair, MAHEC Department of Psychiatry
Beth Buys, MD, Chair, MAHEC Department of Obstetrics and Gynecology
Stephanie Call, MD, Chair, MAHEC Department of Internal Medicine
Blake Fagan, MD, Chair, MAHEC Department of Family Medicine
Bryan Hodge, DO, Chair, Department of Community and Population Public Health at UNC Health Sciences at MAHEC
Katherine Jowers, DDS, Chair, MAHEC Department of Oral Health and Dentistry
Amy Joy Lanou, PhD, Director, Public Health Program at UNC Health Sciences at MAHEC; Executive Director, North Carolina Center for Health and Wellness at UNC Asheville
Robyn Latessa, MD, Director and Assistant Dean, UNC School of Medicine, Asheville Campus; Interim Chair, Department of Research at UNC Health Sciences at MAHEC
Mollie Scott, PharmD, Regional Associate Dean, UNC Eshelman School of Pharmacy; Chair, Department of Pharmacotherapy at UNC Health Sciences at MAHEC
CONTACT INFORMATION
Address: 121 Hendersonville Road, Asheville, NC 28803
Phone: 828-257-4400
Email: webmaster@mahec.net
Website: mahec.net
FOLLOW MAHEC
Facebook
Continuing Professional Development @MAHECEd
Graduate Medical Education @MAHECGME
Health Careers @mahechealthcareers
Family Health Centers @MAHECFamilyHealthCenters
Dental Health Centers @MAHECDental
Ob/Gyn Specialists @MAHECObGyn
Instagram @mahecwnc and @wncpromise
Twitter @MAHECwnc and @MahecResearch