AREA L AHEC at a glance
Area L AHEC in Rocky Mount, North Carolina, was one of the three original AHECs established under a federal AHEC contract in 1972 to meet the state's health and health workforce needs. All counties in Area L AHEC's region have been designated as full or partial HPSAs (Health Professional Shortage Areas) by the Health Resources and Services Administration.
MISSION
Area L AHEC's mission is to meet the health care workforce needs of Edgecombe, Halifax, Nash, Northampton, and Wilson counties by providing educational programs and services that bridge academic institutions and communities to improve the health of the people of North Carolina with a focus on underserved populations.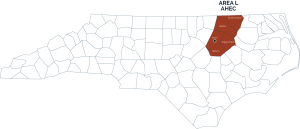 SERVICE AREA
Area L AHEC's serves five North Carolina counties: Edgecombe, Halifax, Nash, Northampton, and Wilson.
SUB-REGIONAL BASES
Regional education bases for Area L AHEC include Halifax Regional Medical Center, Inc. in Roanoke Rapids; Vidant Edgecombe Hospital in Tarboro; Nash UNC Healthcare in Rocky Mount; and Wilson Medical Center, a Duke LifePoint Hospital in Wilson.
CORE SERVICES
Continuing Professional Development
Health Careers
Library Services
Practice Support
Student Services
LEADERSHIP & GOVERNANCE
Area L AHEC is a 501(c)(3) organization located in Nash County and governed by a 15-member Board of Trustees representing area hospitals and counties. The president/CEO of Area L AHEC serves as the official representative of the Board of Trustees. A regional advisory committee, comprised of community leaders, meets with the Area L AHEC staff and president to identify and address health care issues.
Debra P. Futrell, PharmD, President/CEO, Area L AHEC
CONTACT INFORMATION
Address: 1631 S. Wesleyan Blvd, Rocky Mount, NC 27804
Phone: 252-972-6958
Email: contact.us@arealahec.org
Website: arealahec.org
FOLLOW AREA L AHEC
Facebook: facebook.com/arealahec
Twitter: twitter.com/Area_L_AHEC | @Area_L_AHEC
Instagram: instagram.com/arealahec | @arealahec