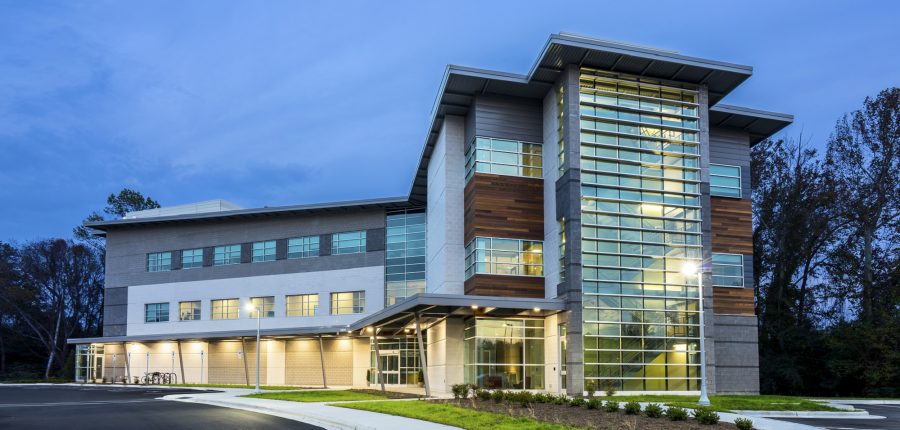 EASTERN AHEC at a glance
Founded in 1974, Eastern AHEC strives to fulfill its mission of nurturing current and future health care professionals throughout their careers in several ways, including health career pipeline programs and other student services, continuing education and professional development programs, practice support, and library services. Eastern AHEC's three-story, 36,400-square-foot building in Greenville, North Carolina, opened in fall 2016. Specifically designed to support education and collaboration in health care throughout the community, the education center at the building is available to the community when not in use for Eastern AHEC programs.
MISSION
With the purpose of strengthening health care in eastern North Carolina by nurturing current and future providers, Eastern AHEC strives to be the bridge between health care and education in their region of 23 counties by positively influencing health outcomes in the region and by adhering to their mission statement: "Eastern AHEC is an advanced resource for health care providers, from student to expert."
SUB-REGIONAL BASES
In addition to the main office in Greenville, Eastern AHEC also has an office located on the campus of Elizabeth City State University. The Elizabeth City office serves seven counties: Camden, Chowan, Currituck, Gates, Hertford, Pasquotank, and Perquimans.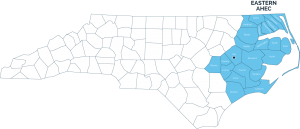 SERVICE AREA
Eastern AHEC serves 23 counties in North Carolina: Beaufort, Bertie, Camden, Carteret, Chowan, Craven, Currituck, Dare, Gates, Greene, Hertford, Hyde, Jones, Lenoir, Martin, Onslow, Pamlico, Pasquotank, Perquimans, Pitt, Tyrrell, Washington, and Wayne.
CORE SERVICES
Eastern AHEC's core services include:
Continuing Professional Development
Library Services
Practice Support
Student Services
Eastern AHEC also assists the community with conference planning and management. Their Education Center is perfect for board meetings, retreats, conferences, workshops, networking events, and more.
LEADERSHIP & GOVERNANCE
Eastern AHEC is a non-profit organization governed by a board of directors that includes representation from regional health care institutions, the community, and community college system. To maximize resources, Eastern AHEC is affiliated with the East Carolina University (ECU) schools of medicine, nursing, and allied health. They also work with dentistry, pharmacy, and public health programs at the University of North Carolina at Chapel Hill.
Lorrie Basnight, MD, FAAP, Executive Director, Eastern AHEC and Associate Dean, Continuing Medical Education, ECU Brody School of Medicine
CONTACT INFORMATION
Main Office
Mailing Address: Eastern AHEC, PO Box 7224, Greenville, NC 27835-7224
Physical Address: 2600 W. Arlington Blvd., Greenville, NC 27834
Phone: 252-744-5221
Email: easternahec@ecu.edu
Website: easternahec.net
Elizabeth City Office
Mailing Address: Eastern AHEC, 1704 Weeksville Road, Elizabeth City, NC 27909
Physical Address: 1500 Hoffler Street, Elizabeth City, NC 27909
Phone: 252-335-4399
FOLLOW EASTERN AHEC
Facebook:facebook.com/easternahec
Twitter: twitter.com/EasternAHEC| @EasternAHEC