Glenn Wilson Award for Public Service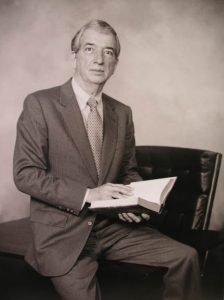 The Glenn Wilson Award honors the founding director of the North Carolina Area Health Education Centers Program. Glenn Wilson served as the director of the North Carolina AHEC Program from 1972 to 1977. Wilson assembled the team of faculty to write the initial federal AHEC grant, and was successful in receiving one of the initial 11 AHEC awards in 1971. At that time, the AHEC grant was the largest federal grant ever received by UNC-Chapel Hill. Wilson worked in close collaboration with hospital and other community health leaders at the initial AHEC sites to develop university-community partnerships which remain fundamental to the success of the AHEC Program in North Carolina. In 1974 he successfully led the effort to obtain permanent funding for AHEC, which supported expansion to a statewide program with nine centers and built the AHEC facilities across the state. After leading the AHEC Program through its formative stage in the 1970's, Glenn Wilson stepped down as AHEC Program Director to become the founding chair of the Department of Social and Administrative Medicine, now the Department of Social Medicine, in the UNC School of Medicine.
Initiated in 2006, The Glenn Wilson Award for Public Service pays tribute to Wilson's numerous contributions in founding the North Carolina AHEC Program, his leadership in establishing a structure of partnerships between communities and academic health centers as the basis for the organization of the AHEC Program, and his lifelong commitment to social justice and improved access to quality health care for the state's most vulnerable communities. The Glenn Wilson Award for Public Service will be given to an individual each year who has made significant contributions to improving access to health care for the people of North Carolina.
The following criteria are used in selecting the Wilson awardee:
Has demonstrated leadership in improving access to health care for the people in North Carolina;
Has been involved in teaching health science students either directly or through the work of the individuals' organization;
Has built successful partnerships with other providers to improve health care for communities; and
Has championed improved health outcomes for all North Carolinians, particularly those who are most vulnerable.
WILSON AWARDEES:
2015: David M. Webb, EdD, of Wilson, North Carolina. For his leadership of Area L AHEC and his work to improve health care in North Carolina.
2012: Eugene Maynard, MD of Benson, North Carolina. For his work at the Benson Area Medical Center, with a particular focus on his work with migrant and seasonal farmer workers in Johnston County and the surrounding areas.
2011: George T. Wolff, MD of Greensboro, North Carolina. Educating family physicians to meet the primary care needs of North Carolina communities. Director of the Moses Cone Family Practice Residency program.
2009: Howard Loughlin, MD of Fayetteville, North Carolina. Service to the children of Southern Regional AHEC region, statewide leadership in child advocacy and primary care education, service to the North Carolina AHEC Program.
2007: Olson Huff, MD of Asheville, North Carolina. Developmental Pediatrician, Clinician and Teacher, State and Local Advocate for Children, Mountain AHEC Board Member.
2006: Jane H. McCaleb, MD of Jackson, North Carolina. Medical Director of Roanoke Amaranth Community Health Group; Associate Professor of Family Medicine, UNC-Chapel Hill School of Medicine; Preceptor for UNC-Chapel Hill and East Carolina University; Medical Student Clerkship Director for Area L AHEC.