CLIC: MAHEC's First International Conference a Major Success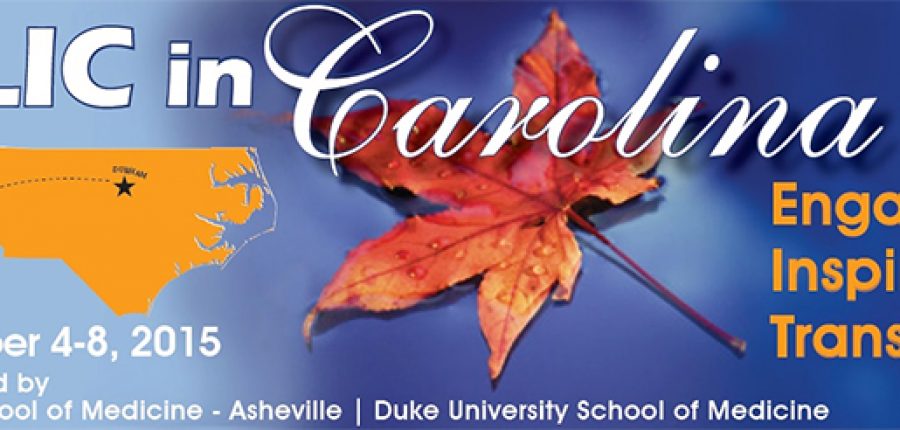 Over 250 international participants from 60 schools from as far away as Australia, Canada, Singapore, Norway, and South Africa attended the CLIC in Carolina Conference from October 4-8, 2015. After a selective process, Asheville and Durham were chosen as the host sites for the Consortium of Longitudinal Integrative Curriculum (CLIC) 2015 Conference, which was hosted by Mountain AHEC, Duke University, and the UNC-Chapel Hill School of Medicine. Positive feedback abounded, not only about the content, but also about how well the conference was organized. The term "well-oiled machine" was used many times during the week to describe MAHEC's conference management team.
CLIC, not yet an official organization, is at the cutting edge of medical education or, put another way, they are the "radicals of education reform." Breaking down the academic silos, creating a curriculum that is highly patient-centered, including ethics in the third year, and creating time in the curriculum for self-directed study is a very significant departure from traditional medical education. It is believed that CLIC will soon be the annual forum where the most innovative curriculum reforms are introduced.

Beginning in Durham, participants enjoyed plenary speakers and break-out sessions at the Washington Duke Inn. They then boarded buses on Tuesday and traveled to Asheville for the remainder of the conference at the Grove Park Inn. The bus trips included stops at the Arboretum, Biltmore House, Folk Art Center, French Broad River, and a Community Awareness themed trip led by MAHEC Family Practice Physician Benjamin Gilmer, MD, which made a stop at Broughton Hospital in Morganton.
As a conference for medical educators leading schools with longitudinal curricula, the Asheville Campus of the UNC-Chapel Hill School of Medicine was highlighted as a highly sought-after program. It began in 2009 as the first program of its kind in North Carolina and has grown to 20 students per year and over 400 active community faculty.
"This conference recognizes educational innovations and allows colleagues from various institutions to share ways to continue to improve the education of students and to expand the movement of Longitudinal Integrated Clerkships into more schools and campuses," said Robyn Latessa, MD, director and assistant dean, UNC-Chapel Hill School of Medicine Asheville Campus. "I am so proud to have MAHEC, the UNC School of Medicine, and our Asheville campus at the heart of this way forward for medical education!"
---