AHEC Enables First Dedicated Education Unit at a State Psychiatric Hospital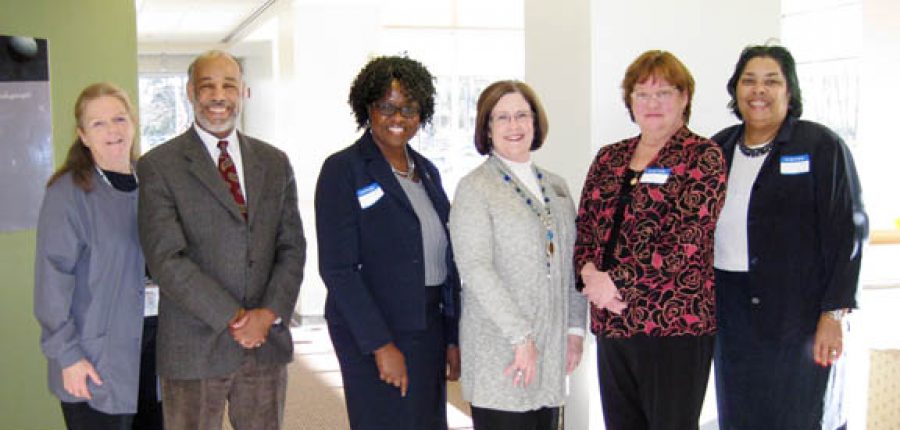 Photo above (left to right): Frankie Ballard, PhD, RN-BC, NC Department of Health and Human Services, nurse consultant, Central Regional Hospital; Randolph F. R. Rasch, PhD, RN, FAANP, visiting professor and interim department chair, NCCU; Willie Gilchrist-Stanfield, MSN, RN, clinical instructor and clinical site coordinator, NCCU; Kathy G. Clark, MS, RN, associate director, Wake AHEC; Mary Schuler, EdD, CNE, RN, AHEC statewide nursing liaison; and Ms. Gloria T. King, clinical instructor, NCCU.
Through a clinical site development nursing grant from the NC AHEC Program, North Carolina Central University (NCCU) and Wake AHEC worked with Central Regional Hospital in Butner to develop a dedicated education unit (DEU).
The DEU is a model of clinical education developed by a partnership between a school of nursing, the regional AHEC, and a health care agency. The DEU at Central Regional Hospital (CRH) provides clinical teaching for undergraduate nursing students in a psychiatric rotation, using staff preceptors for the clinical instruction. This leaves the NCCU nursing faculty time to serve as a facilitator to support the development of the preceptors into clinical instructors, and also serve as a resource to the nursing students as they meet their course objectives.
"One of the major impacts of this grant is that it has allowed our students to participate in a one-to-one hands-on experience with nurses working in their specialty area and an interdisciplinary team before their senior year capstone experience," said Willie Gilchrist-Stanfield, MSN, RN, clinical instructor in the department of nursing at NCCU.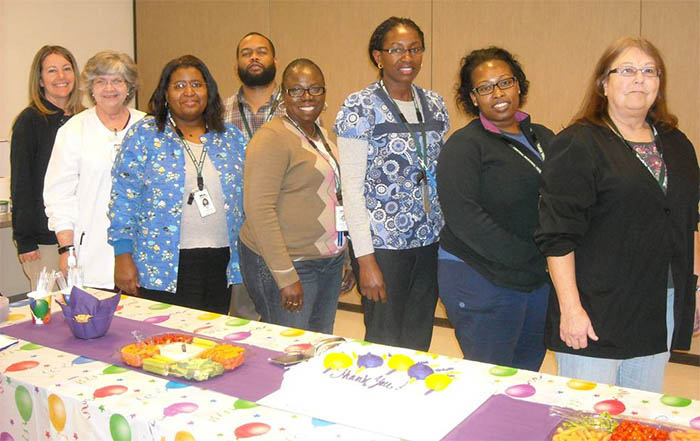 This grant not only developed the clinical site for the academic partner, but also developed the clinical staff as preceptors utilizing AHEC-funded online nursing preceptor modules through AHEConnect. "The participation by CRH nursing staff was low at the beginning," noted Gilchrist-Stanfield. "However, by the end of the first semester there were more nurses wanting to be a preceptor, the morale of the staff increased, and the staff wanted to share their knowledge with the students." This program was so successful that this model is now being used for an additional adult admissions unit at CRH.
Initially funded for the 2013-2014 fiscal year, the project activities were also funded for 2014-2015.
"This DEU was patterned after a previous AHEC-funded grant to Rex Healthcare and the UNC-Chapel Hill School of Nursing," explained Kathy Clark, MS, RN, associate director, RN Refresher Program, at Wake AHEC. "Part of the implementation of this first grant was preceptor development in the form of 'lunch & learn' programs held on site. Both of these successful grants were funded through Wake AHEC. The focus for a DEU came from an idea generated from the Consortium for Clinical Education and Practice on how to increase clinical capacity."
About the NC AHEC Clinical Site Development Program:
In 1989, the NC legislature allocated funds to the NC AHEC Program with the specific goal of exposing the greatest number of nursing students for the maximum time possible to new clinical training sites in rural, long-term care, and critical care settings. As a result, the NC AHEC Program established a grants program, which continues to allocate funds among the schools of nursing within the NC Community College System and UNC constituent institutions.
AHEC nurses work with the NC community colleges nursing programs and UNC system schools of nursing to identify and develop new clinical sites and also assist with grant preparation.
AHEC nurses across the state play a key role in development of new sites. The regional AHEC nurse provides the partners with educational support which may involve hosting face-to-face or web-based meetings to brainstorm/develop ideas for grant proposals, presentations of current models for clinical education, or literature reviews, connecting academic and educational partners with each other or other known resources and being available to answer questions and review the draft proposals. Once the proposal is funded, the regional AHEC nurse works closely with the academic coordinator for the grant implementation and evaluation.
Since 1990, 490 sites and 59 schools have received clinical site development funds. Consistent with the initial legislative intent, 84% of the sites have provided training experiences in the identified areas of greatest need. Since 1990, over $2,840,000 has been distributed across the state for clinical site development.
---