Dereck DeLeon, MD, Named Executive Director of Greensboro AHEC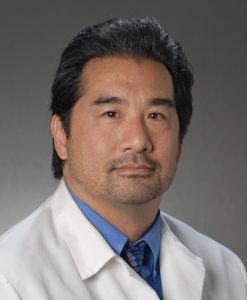 Dereck DeLeon, MD, has been named executive director of Greensboro AHEC and senior vice president and chief academic officer of Cone Health, effective October 15, 2018. DeLeon will lead the Greensboro Area Health Education Center and Cone Health's medical residency, fellowship training, and research programs.
DeLeon formerly served as program director and chair of family medicine at Kaiser Permanente San Diego. He has a history of pursuing innovation in medical education, practicing patient-centered care, building communities, and designing medical education programs that prepare providers to practice in an environment of value-based health care. He was honored this year by the California Academy of Family Physicians Foundation as the Barbara Harris Award Winner for Educational Excellence.
"I am excited to join Cone Health and Greensboro AHEC," shared DeLeon. "During my career, education, patient-centered care, and building communities have been my passions. Both Cone Health and Greensboro AHEC are keenly focused on these tenants. As organizations, they have an intentional vision of making sure that our health care providers are provided excellence in education, delivering on the promise of placing the patient at the center of care, and making sure that we develop and build up the communities where we live and work."
In his new role at Greensboro AHEC and Cone Health, DeLeon is responsible for optimizing the benefits of bringing together clinical care, academics, research, academic partners, and community to positively impact the health of the Greensboro AHEC's eight-county region while training the next generation of health professionals.
"Cone Health and Greensboro AHEC have a strong history of supporting undergraduate and graduate medical education programs that are nationally respected," DeLeon added. "I want to leverage that to create more opportunities for these physicians to stay and practice in Greensboro and its surrounding counties once they graduate. Cone Health has so much to offer our students and residents in terms of depth and breadth of experiences in the different medical specialties, physician knowledge, and our focus on quality and service."
"Dr. DeLeon will be an asset to our leadership team and a strong fit within our Cone Health culture," stated Mary Jo Cagle, MD, chief operating officer of Cone Health.
DeLeon earned bachelor's degrees in molecular biology and economics from the University of Washington. He received his medical degree from Universidad del Caribe Cayey, Bayamon, in Puerto Rico, and completed the Loma Linda University Family Medicine Residency at Riverside County Hospital in California. He finished a faculty development fellowship at the University of California at San Diego School of Medicine, as well as a fellowship with the National Institute for Program Director Development. DeLeon has been married to his wife, Nelly, for 27 years and has a son, Alexander, in medical school and a daughter, Arianna, in law school.
About Greensboro AHEC
Greensboro Area Health Education Center, located on the campus of the Moses H. Cone Memorial Hospital in Greensboro serves eight counties in North Carolina: Alamance, Chatham, Caswell, Guilford, Montgomery, Orange, Randolph, and Rockingham. Visit gahec.org for more information about Greensboro AHEC.
---