Suzanne Landis: A Passion for Geriatric Medicine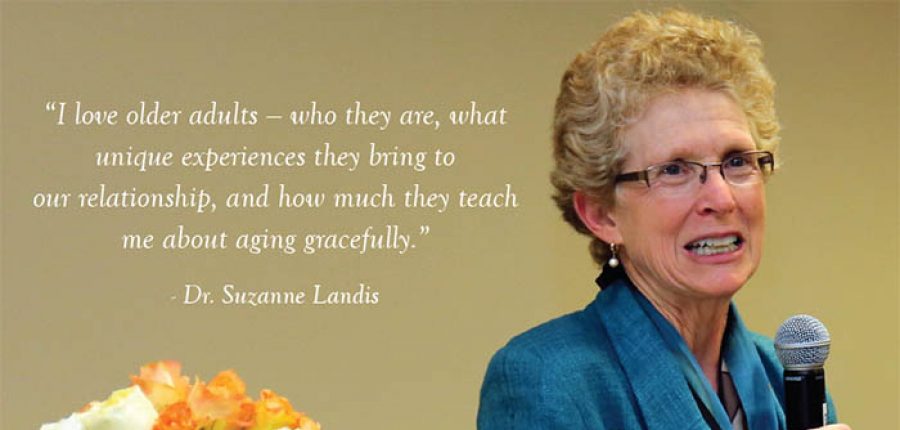 Suzanne Landis, MD, MPH, director of the Center for Healthy Aging at Mountain AHEC and leader in establishing Project Access, retired at the end of June 2015 after 38 years of advocacy and research impacting western North Carolina, the state, and the nation. Her passion for geriatric medicine continues with a pledged gift totaling $500,000 to establish an endowment at MAHEC for geriatric medicine.
"Having personally witnessed and benefited through her compassionate and intelligent care of my own family members, I can say that Dr. Landis is one of the state's greatest physicians, and her legacy will and should be enduring. This gift is yet another demonstration of her most honorable and respected commitment to advance geriatric medicine for generations to come, " said Jeff Heck, MD, MAHEC president and CEO.
The Suzanne Landis Geriatric Medicine Fund is an endowment to support:
Innovation in the care of the elderly
Improved health care access for vulnerable and frail elderly
Research efforts that contribute to the knowledge and practice of clinical geriatrics
Enhanced services that improve the quality of life for older people living in the community with a special focus on prevention, access and primary care.
Landis is highly regarded among colleagues and community partners for her vision, innovation, research and commitment to excellent care for all patients.
At MAHEC, she actively saw patients and taught with the family medicine residency and the geriatric medicine fellowship programs. She also practiced geriatrics at Givens Estate and focused research efforts on changing systems of care for geriatric patients. Landis is a tenured professor in the department of family medicine at UNC-Chapel Hill and has mentored scores of residents and led several quality improvement initiatives and community coalitions to improve health care.
In 1995, in response to the growing number of uninsured residents of Buncombe County, Landis led a group of physicians to create Project Access, a network of volunteer physicians serving over 3,000 patients each year. The program has won numerous awards, including the Innovations in American Government Award. As many as 100 communities across the country have since replicated this model.
Landis has served as a National Health Service Corps physician, a Robert Wood Johnson Clinical Scholar, A Center for Medicare & Medicaid Services Innovation Advisor, and a Hartford Practice Change Leader.
"She was our sounding board, our teacher, our mother and our friend. A perfect melding of toughness and tenderness that I came to realize is essential to the practice of what we call 'the art of medicine.' … I think it would not be a far cry to contend that through her tireless work on behalf of the underserved and excellent mentoring of doctors who have largely stayed in the area, that Suzanne, too, has touched the life of virtually everyone in the region," said Amy Santin, MD, family practice physician at the MAHEC Family Health Center at Cane Creek in Fletcher, NC.
Fostering Exceptional Health Care for Older Adults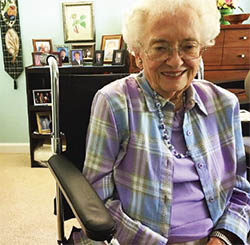 Doris has entrusted MAHEC with her health care for the better part of two decades. She resides at Givens Estates where Landis met with her regularly to discuss her health. At 94, Doris (photo right) feels that her sound state of health can be partially attributed to Landis' care. "She cares, she listens, and she tells you why she's doing what she's doing," says Doris.
One of Doris' earliest experiences with Landis had a truly lasting influence. She had only just met Landis shortly before Doris required admission to the hospital. At that time, Landis had been traveling and was "off-duty," yet she visited the hospital to inquire as to how she was feeling. Doris states, "It was totally unexpected, but greatly appreciated. That's the way she was; she went the extraordinary mile."
Doris' experiences speak to the level of commitment of Landis, and serves as an inspiring example for future generations of physicians. The depth that one is able to achieve through medicine in touching others' lives is unmatched, and Landis serves as a reminder of this through the stories of Doris and countless others.
---