Eastern AHEC Elizabeth City Office Opens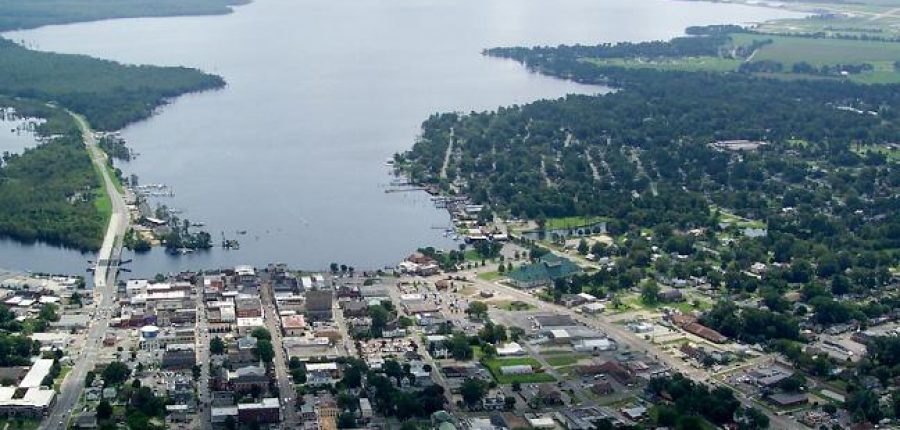 Educational resources for the health care workforce have expanded in eastern North Carolina through the expansion of the Eastern AHEC. With the exception of a few small cities, the region is quite rural and sparsely populated. Large rivers and sounds dissect the region, with some communities only reachable by ferry, personal boat, or plane. Local health care professionals are passionate about the communities they serve and recognize that they need to be prepared to take care of the population since many patients would not be able to travel great distances for care. Communities also understand that they need to "grow their own" providers to fully meet the needs of their citizens.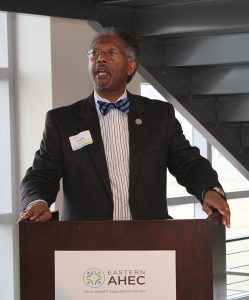 The mission of Eastern Area Health Education Center is to meet health and health workforce needs by being an advanced, lifelong resource for health care providers. The work of Eastern AHEC takes place along the continuum of the life of health professionals—from encouraging and preparing high school students for careers in health, supporting students in health profession training, to working with practicing professionals. For over 40 years, Eastern AHEC has provided continuing education to thousands of health care professionals, supported student clinical rotations, and fed the workforce pipeline with youth who want to pursue health careers in the 23 eastern counties of North Carolina. However, Eastern AHEC is housed in Greenville and the distance to Elizabeth City and surrounding far northeastern region limits Eastern AHEC's ability to provide the needed resources to this area of the state.
"The far northeastern counties of North Carolina have a historically agrarian economy that has struggled in the recent economic downturn," noted Claire W. Mills, MPH, RN, FACHE, director, Eastern AHEC Elizabeth City Office. "The region is one of the most difficult in which to recruit and retain physicians, nurses, pharmacists, dentists and other health professionals. AHEC's resources can help support the health care workforce."
A $700,000 grant from The Duke Endowment, and collaboration with Elizabeth City State University, has allowed Eastern AHEC to establish a satellite office in Elizabeth City on the campus of ECSU. These resources will make it possible to create a critical mass of workforce support and pipeline initiatives, and will make a positive impact on individuals entering, remaining, and succeeding in the health care workforce in Hertford, Gates, Chowan, Perquimans, Pasquotank, Camden, and Currituck counties.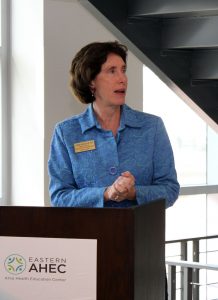 The Eastern AHEC Elizabeth City Office opened in November 2015 and is now staffed with three people tasked with assessing and meeting the community's health care workforce needs. The central tenet of the Office is to establish and support a Partnering Coalition of community leaders to inform the work of the Office. The Coalition membership includes representatives from Elizabeth City State University, College of the Albemarle, Roanoke Chowan Community College, Sentara Albemarle Medical Center, Vidant Chowan Hospital, Vidant Roanoke Chowan Hospital, Elizabeth City's mayor, a public school superintendent, Federally Qualified Health Centers, the public health department, mental health representation, East Carolina University's School of Dental Medicine Community Service Learning Center, and others. Members of the Partnering Coalition recently participated in a needs assessment, and common themes for programmatic development are being identified.
A major focus of the work of the Eastern AHEC Elizabeth City Office is to encourage students to choose a health profession career. AHEC's work begins in the local high schools where a service-learning curriculum, the Youth Health Service Corps, engages and exposes students to health careers and the personal rewards one receives by serving others. In the 2015-2016 school year, Eastern AHEC is providing this program in Hertford, Perquimans, Currituck and Dare counties. (Dare was added due to their proximity to the Elizabeth City Office compared to Greenville.) High schools in Gates, Chowan and Camden counties have committed to begin in fall 2016, as has the STEM Charter School in Pasquotank County. This summer, Eastern AHEC will collaborate with the College of the Albemarle to hold Health Science Academy boot camps in Elizabeth City and in Dare County; and with ECSU to provide the Youth Health Service Corps curriculum to their Upward Bound program participants.
The Eastern AHEC Elizabeth City Office has a strong focus on interprofessional practice and patient-centered care. Continuing education for practicing providers is available for all types of providers utilizing both local and Greenville-based resources. The Office also reaches beyond the traditional health care workforce to include as appropriate any community discipline that touches the patient/client and can influence the efficiency and effectiveness of patient care delivered and impact patient outcomes. So far, they have collaborated to offer programs on Elder Fraud Abuse, Mobility for Children with Disabilities, and are working with both UNC and ECU College of Nursing Geriatric grants to improve care of our aging population. Knowing that there are resources available locally has brought numerous requests for educational activities all along the continuum of the health workforce lifespan
Background info on the population of northeastern North Carolina:
The largest percentage concentration of minority individuals in the state resides in this region; further in three counties in this region, African Americans are the majority population.
There are profound racial and socioeconomic disparities in disease prevalence, morbidity, and mortality, and these disparities are increasing rather than decreasing. This region has the fewest number of health professionals per population of any region in the state, and the health care professional shortage negatively impacts access to care and perpetuates poor health outcomes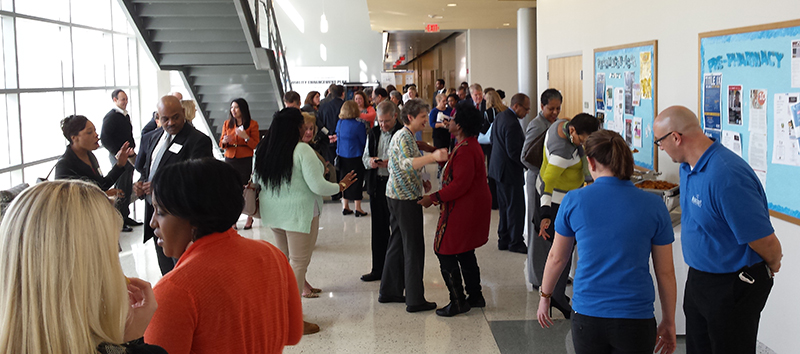 ---