South East AHEC Practice Support Uses SECU Funding for COVID-19 Response

The State Employees Credit Union (NC SECU) Foundation recognized the remarkable work NC AHEC Practice Support has done statewide during the COVID-19 pandemic by creating a unique opportunity for the providers and practices they support. After making funding available to each regional AHEC's Practice Support team, South East AHEC was able to address the needs of small, independent practices and the communities they serve.
The South East AHEC Practice Support team utilized this funding to purchase personal protective equipment (PPE) and provide pediatric cloth face masks as a means of helping practices and patients remain safe and healthy during the COVID-19 pandemic. South East AHEC was able to distribute over 10,000 PPE items to 75 physician practices across our region and 1,000 pediatric face masks to 13 pediatric practices.
Most recently, South East AHEC continued to support practices with distribution of over 500 "I Got My COVID-19 Vaccine" pins for their staff to help encourage and build confidence in the vaccine throughout our communities.
The team was also able to support three local schools in creating safer classrooms with the purchase of desk shields and cleaning supplies.
In addition, South East AHEC Practice Support—in collaboration with the Continuing Professional Development team—began offering practices Community Resiliency Model (CRM) modules. The goal of CRM is to help to create trauma-informed and resiliency-focused communities that share a common understanding of the impact of trauma and chronic stress on the nervous system and how resiliency can be restored or increased using this skills-based approach.
"We are honored to have had the opportunity to provide such support to practices and providers throughout our region," shared Olivia Herndon, Associate Director at South East AHEC. "The generosity of SECU allowed our team the ability to help our local healthcare heroes and the communities in which we live during a time when it was needed the most."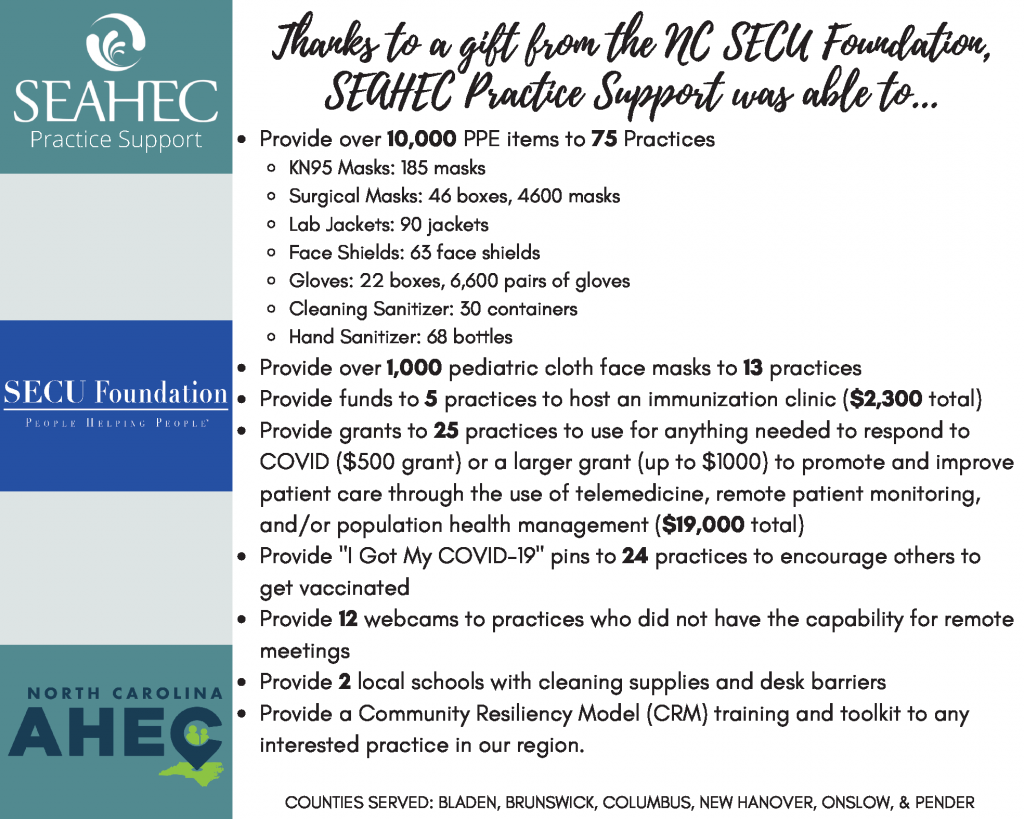 To learn about how the Greensboro AHEC region utilized their SECU funding to support telehealth initiatives in local practices, read their story.
PLEASE NOTE: Greensboro AHEC is now known as Piedmont AHEC. The organization's name changed on February 1, 2023.

---