Eastern AHEC First to Earn Distinction from NCNA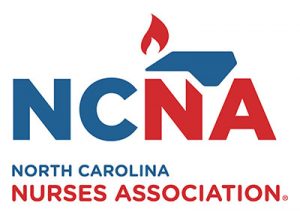 The Eastern AHEC Department of Nursing and Allied Health Education is the first Approved Provider Unit in North Carolina to be named an Approved Provider with Distinction by the North Carolina Nurses Association (NCNA). This designation was given on April 16, 2018. Approval with Distinction demonstrates both compliance with and commitment to exceeding the standards of the NCNA and the American Nurses Credentialing Center (ANCC). It indicates exemplary performance in demonstrating quality and excellence in the design and delivery of Continuing Nursing Education.
"This is a great honor for Eastern AHEC," said Donna Moses, director of nursing and allied health education at Eastern AHEC. "This distinction recognizes our team's efforts to ensure we offer a high level of quality continuing education to health care professionals in eastern North Carolina."
The Eastern AHEC Department of Nursing and Allied Health Education partners with clinical agencies, academic programs, health care stakeholders at the regional and state level, and other health disciplines in the identification of professional learning needs and the planning, implementation, and evaluation processes to address them. The department offers both contracted programs for hospitals and other local agencies and regional programs open to all nursing and allied health professionals across their 23-county service area. The department also works with the Eastern AHEC Elizabeth City Office to provide programming to the far northeastern counties.
A few successful programs were highlighted in the application, including Dementia Best Practices with Teepa Snow on May 24, 2017, in Elizabeth City. When the department identified a need for nurses and other professionals to become more familiar with the various types of dementia and screening guidelines, Snow, an internationally recognized dementia expert, was brought in to develop evidence-based content to address practice gaps in eastern North Carolina. This sold-out program was attended by more than 125 professionals from 27 counties in North Carolina, as well as Virginia and Tennessee. Participants included nurse practitioners, registered nurses, nursing home administrators, psychologists, social workers, counselors, physical therapists, occupational therapists, EMT/paramedics, and more. The program was even featured in The Daily Advance. This is just one example of the quality programs developed by the Eastern AHEC Department of Nursing and Allied Health Education to meet the needs of the region's health care professionals.
Visit easternahec.net for more information.
---