NC AHEC Hosts First Interprofessional Education Leaders Collaborative
On January 14, 2020, the North Carolina Area Health Education Centers (NC AHEC) Program hosted the first statewide assembly of education leaders to assess the current state of IPE initiatives at academic institutions in NC and to discuss methods for standardizing didactic and clinical learning environment curricula and executing IPE faculty development.
The Interprofessional Education Leaders Collaborative (IPEL-C) consists of 54 academic leaders representing 42 institutions. The one-day meeting opened with remarks by NC AHEC director Hugh Tilson to reinforce support for a statewide IPE initiative, and a conversation on the state of IPE led by Jill Forcina, the Associate Director of Continuing Professional Development (CPD), IPE, and Nursing.
"Institutions across the state greatly value interprofessional education and are enthusiastic about the potential impact of this partnership on the transformation of health care delivery in North Carolina," Jill said. "However, many IPE leaders—from those who are just beginning their work to those who have well-established programs—can identify some pretty steep barriers."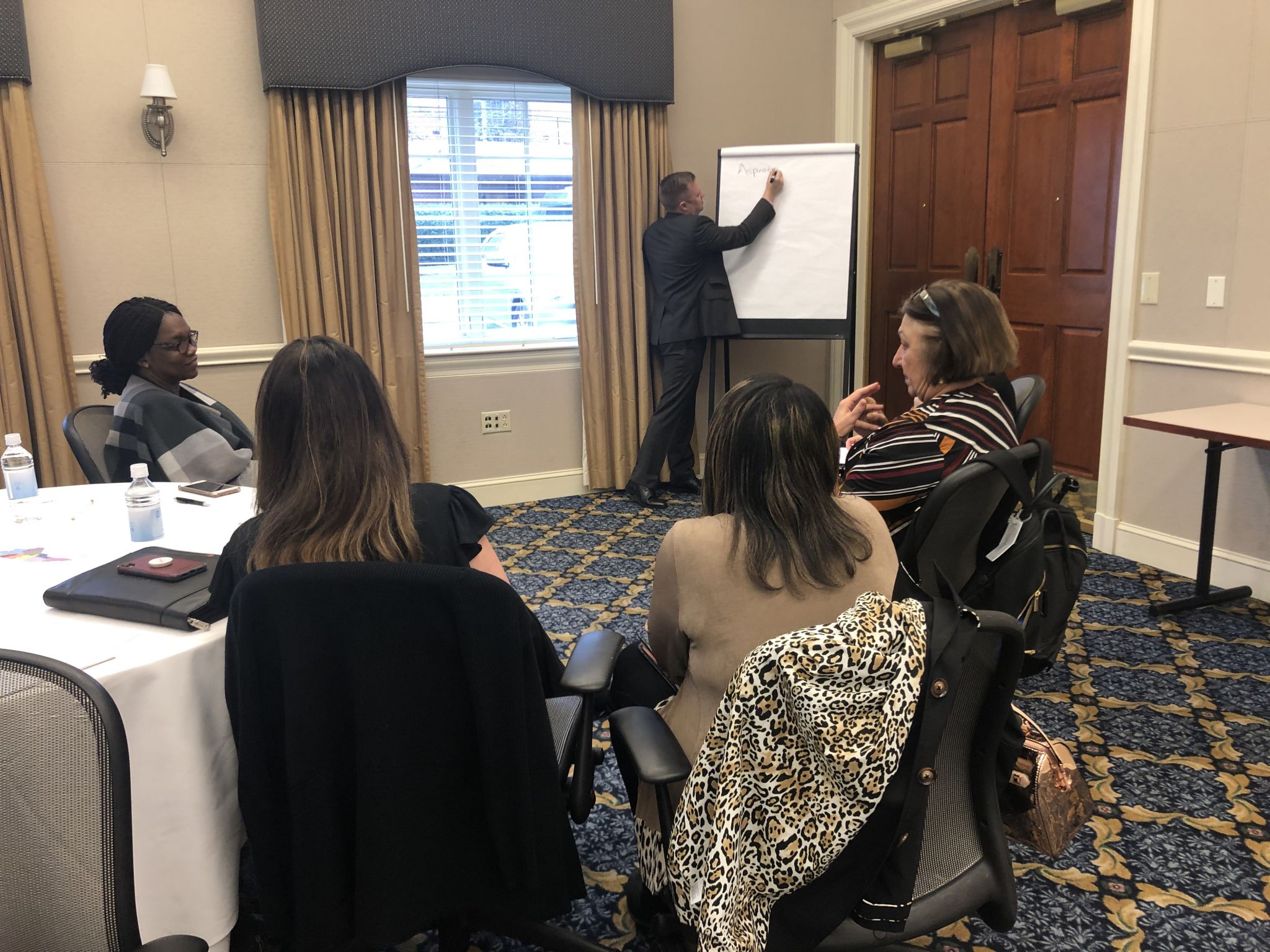 Some of those obstacles to robust IPE programming include faculty development and institutional support, interprofessional clinical placement with prepared preceptors, and assessment and evaluation plans in a planned curriculum that can be executed across professions and institutions.
"The IPEL-C can address these problems by not only connecting the academic environments across the state to each other for wider resources, but also connecting institutions with practice environments to create settings where students and current health care providers learn the basis of collaborative practice alongside each other," Jill shared.
The inaugural assembly was led by Jill and other members of the steering committee, including:
Assistant Dean of Interprofessional Education, Campbell University
Stephen Charles, MS, MABMH, PhD, CHSE
Interim Assistant Vice Chancellor for Interprofessional Education, East Carolina University
Director of the Center for Interprofessional Education and Care (IPEC) Program, Duke University
Meg Zomorodi PhD, RN, ANEF, FAAN
Assistant Provost and Director, Office of Interprofessional Education and Practice, UNC-Chapel Hill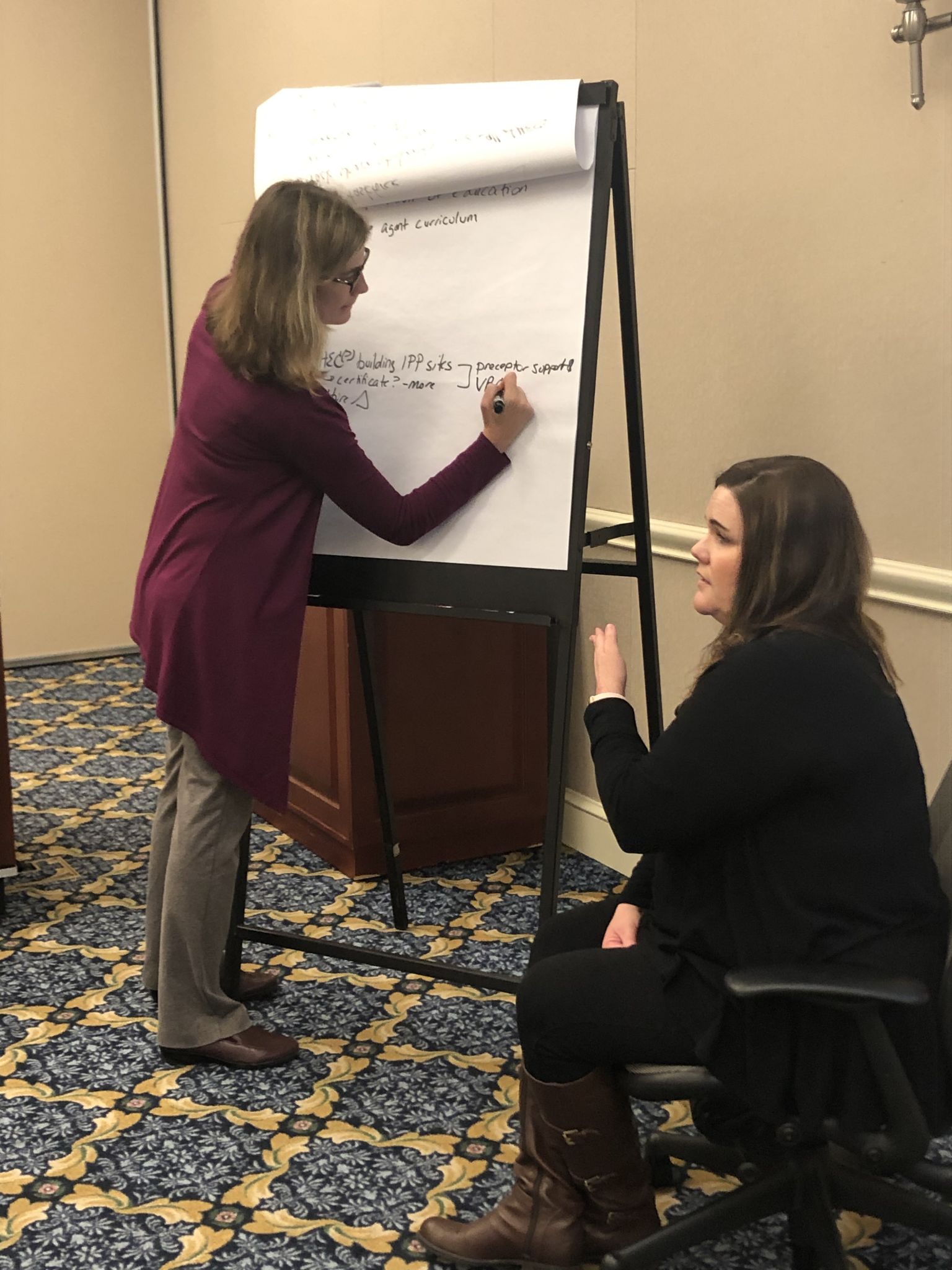 After breaking for lunch, attendees organized into two think tank sessions to determine what themes emerged from the morning's dialogue that deserve attention from the collaborative. Participants identified faculty affairs, curriculum evaluation, clinical placements, and preceptor development as four primary areas of focus. They worked to determine what strengths, opportunities, and resources were already available in those areas, as well as the collaborative's aspirations and desired results.
"Without IPE, we cannot expect to have a practice-ready workforce that can address the health needs of the population, particularly in rural areas," Jill shared. "However, educators are struggling to adequately prepare students for interprofessional practice because the current practice environment—where those students are getting their clinical training and where they are going to work upon graduation—has not been trained or prepared for team-based, whole person health care.
An action plan will be developed based on priorities set by steering committee, with input from the findings of each breakout session. A needs assessment was also initiated before the meeting based off of a survey distributed by the National Center for Interprofessional Practice and Education. The survey will determine where NC stands with its IPE programs across the state and on the national stage. Questions addressed institutional support for IPE, faculty development, structure, demographics, and existing resources, as well as how regional AHECs can provide support.
To learn more about the IPEC-L, contact Jill Forcina at jill_forcina@ncahec.net. To keep in touch with advancements in interprofessional education statewide, follow the NC AHEC Program on Facebook, Twitter, and LinkedIn.
---