Southern Regional AHEC Breaks Ground For a New Building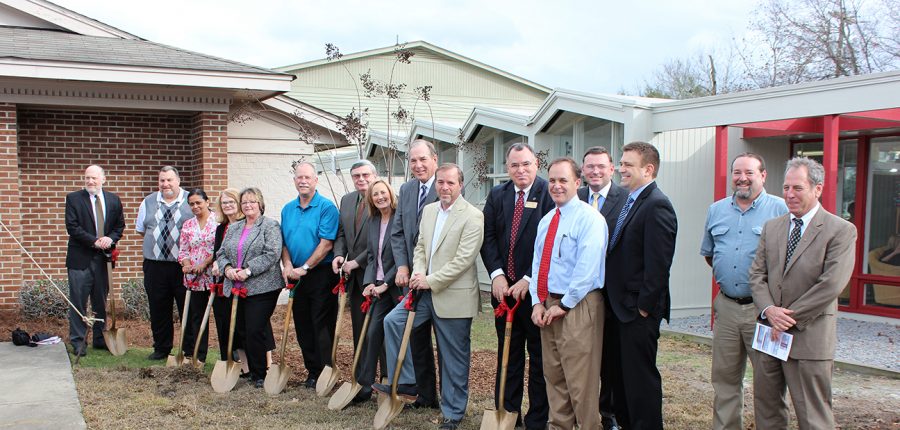 On December 29, 2015, Southern Regional AHEC in Fayetteville held a groundbreaking ceremony for a new building. The ceremony marked the beginning of an approximately 18-month building project that combines all services in one modern facility, housing administration and finance, specialty medicine, family medicine and its residency program, along with health care continuing education. Construction on the $17.5 million new facility began January 4, 2016.
Photo above (left to right): Marvin Swartz, MD, board member and Duke AHEC liaison; Gary McMillan, SR-AHEC facilities manager; Sushma Kapoor, MD, SR-AHEC vice president for clinical education and services, director of family medicine residency program; Russet Rogers, PhD, SR-AHEC vice president for regional education and information services; Lynn Greene, SR-AHEC vice president for administration and financial services; Carl Keiper, SR-AHEC practice manager for The Family Medicine Center; William Powers, MD, SR-AHEC board member; Deborah Teasley, PhD, SR-AHEC CEO/president; Jerry Dean, president of Yadkin Bank; Fayetteville Mayor Nat Robertson; Warren McDonald, PhD, board member; Herbie Hames, Criterion Healthcare; Robert Hasty, DO, board member; Jeff Mural, PS3P Architects; Tony Atkinson, MB Kahn (construction); Michael Satterwhite, MB Kahn.
President/CEO Deborah Teasley presided over the ceremony. Teasley noted that the Southern Regional AHEC Board of Trustees and staff have worked hard over the last several years to determine how to build a new facility in the same location without interrupting business operations.
"The result of this construction will be a beautiful new building with modern, efficient facilities and plenty of parking," she said. "During each phase of construction, we will see the same number of patients in The Family Medicine and Specialty Medicine Centers, we will still host innovative continuing education opportunities for health care professionals, and are organizing more rotations for medical students in our region than ever before. The only difference is that we are enlisting help from some of our partners when extra space is required for larger continuing education programs," she said. "We do not foresee any significant changes in the delivery of our clinical services to patients."
Southern Regional AHEC was chartered in 1974 as a nonprofit corporation and serves a dual role in health care in the region. It is a medical facility for families in Cumberland County and surrounding areas, housing Duke University Medical Center's community family medicine residency program where resident and faculty physicians see patients in a model family practice. It's also an education campus and resource center for health care professionals in a nine-county region including Bladen, Cumberland, Harnett, Hoke, Moore, Richmond, Robeson, Sampson, and Scotland.
---