Nursing and Social Work Students Collaborate at Community Site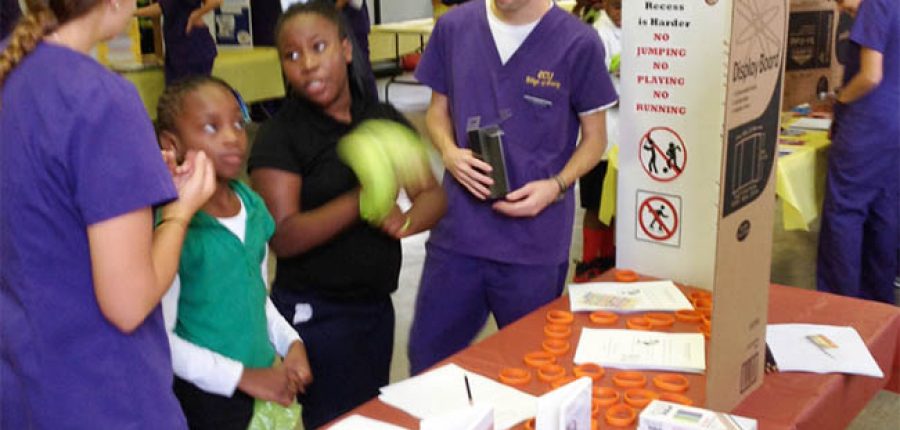 Photo above: ECU nursing and social work students interacting with participants at the Lucille Gorham Intergenerational Center in Greenville, NC.
During the fall, spring, and summer semesters of 2014-2015, 32 nursing students and ten social work students from East Carolina University (ECU) worked collaboratively with the population at the Lucille Gorham Intergenerational Center in Greenville, NC. With support from the NC AHEC Program and Eastern AHEC, the students were led by ECU's Alta Andrews, DrPH, MPH (nursing), MPH (MCH), BSN, RN, clinical professor and director for community partnerships and practice; and Sharon Mallette, RN, BSN, MPH (nursing), FNP, clinical associate professor.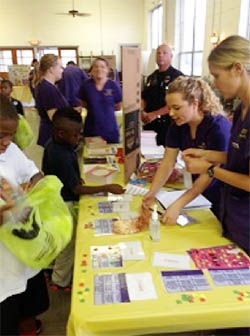 In collaboration with faculty members, the students (photo right) worked out a case referral system so that individual and families could be referred back and forth between the disciplines as needed. The students worked on a diabetic foot screening project, the Million Hearts program (a cardiovascular wellness program), and smoking cessation education. As social family needs were identified, the social work students received referrals and worked with community resources to meet these needs. If they found individuals with health concerns, the social work students made referrals to the nursing students. They worked together and gained a broader knowledge of what each discipline could accomplish and learned how to work together to achieve better outcomes.
As part of a NC AHEC clinical site development grant, the program helped increase capacity for the numbers of students who received their clinical education in a site that provided interprofessional educational opportunities. The grant will continue for its second year with plans to add other health disciplines to the site.
---