Ruhlen Elected 2019 Vice-Chair of ACCME Accreditation Review Committee
PLEASE NOTE: Greensboro AHEC is now known as Piedmont AHEC. The organization's name changed on February 1, 2023.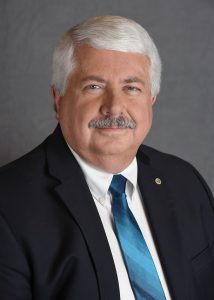 Michael Ruhlen, MD, MHCM, FAAP, director of Charlotte AHEC and vice president of medical education at Atrium Health, was recently elected vice-chair of the Accreditation Review Committee of the Accreditation Council for Continuing Medical Education by the ACCME Board of Directors. He will serve in this role throughout 2019. Traditionally, vice-chairs are named chair in the subsequent year.
"I am deeply impressed with the dedication and integrity of the ACCME teams," stated Ruhlen. "It is a real privilege to be able to work with them to fulfill this important accreditation activity."
According to ACCME.org, Accreditation Review Committee members "are CME professionals who have in-depth knowledge concerting the philosophy and process of CME, the ACCME, and accreditation requirements."
Ruhlen's progressive career experiences have taken him from the private physician office through practice as one of the nation's first identified pediatric hospitalists to large group practice. He has taught medical students, advanced clinical practice students, residents, and fellows throughout his career and has served as a mentor for numerous practicing physicians as well as quality executives of international firms. Ruhlen has been engaged in the development and accreditation of CME for more than 30 years.
As vice-chair of the ACCME Accreditation Review Committee, Ruhlen will work with the 30-member team to collect, review, and analyze data from multiple sources about compliance with ACCME accreditation requirements, noting program improvements and making recommendations to the ACCME for their final decisions about accreditation of applicant providers. Ruhlen will also serve in an advisory capacity, making recommendations to the ACCME that will assist the board in fulfilling its mission.
The ACCME sets the standards for continuing medical education by accrediting organizations in the US and around the world that meet a framework of criteria that ensures educational offerings are designed to be free of commercial influence, practice-based, relevant, and effective. More than 1,800 CME providers—from rural hospitals to national physician membership organizations—are accredited by the ACCME. Charlotte AHEC has been accredited by the ACCME for 20 years, and Ruhlen served as a member of the Accreditation Review Committee four years prior to being elected vice-chair. Eastern and Northwest AHECs are also directly accredited by the ACCME; Area L, Greensboro, Mountain, South East, Southern Regional, and Wake AHECs are ACCME accredited through the North Carolina Medical Society.
View upcoming AHEC CME courses at ncahec.net/courses-and-events.
More about Dr. Ruhlen
Dr. Michael Ruhlen serves as the vice president of the division of medical education at Atrium Health and as director of Charlotte Area Health Education Center. He is a graduate of the University of Cincinnati College of Medicine and holds a Master of Science in Health Care Management from the Harvard School of Public Health. He trained in general pediatrics at Children's Hospital National Medical Center in Washington, D.C. In his previous roles at ProMedica in Toledo, Ohio, he served as vice president of medical affairs at Toledo Children's Hospital and corporate vice president of medical informatics and was appointed president in 2008, just prior to relocating to Atrium Health (then Carolinas Health System). Ruhlen has exercised national leadership positions in the American Academy of Pediatrics, the Society of Hospital Medicine, the Accreditation Review Commission on Education of the Physician Assistant, and the Accreditation Review Committee of the ACCME.
---