A Day in the Life of a Northwest AHEC Practice Support Coach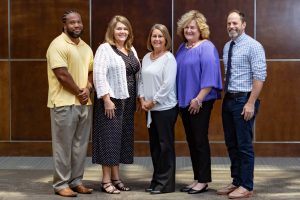 PLEASE NOTE: Charlotte AHEC is now known as South Piedmont AHEC. The organization's name changed on June 5, 2023.
Tammy Yount is always on the move. As an on-site practice support coach for the Northwest region of the North Carolina Health Education Centers (NC AHEC) program, Tammy belongs to a staff of over 30 coaches statewide that transform the way care is delivered in medical practices in all nine AHEC regions.
A graduate of UNC Charlotte, Tammy has served as a medical assistant, practice coordinator, and administrative director for a number of practices in North Carolina. After receiving her master's degree in health administration informatics from the University of Maryland, she joined Charlotte AHEC as a practice support coordinator in 2011. Tammy has coached practices with Northwest AHEC since 2012 and brings over 16 years of health care administration experience to her role.
On a single day this past summer, Tammy delivered quality improvement services to three family medicine clinics in Watauga County. Take a look at what falls in a day's work for a Northwest AHEC practice support coach.
9:30 a.m.
After a two-hour drive from her home in Davie County, Tammy arrived in Boone for her first visit with an independently-owned family medicine clinic that has been in practice for over 15 years. Tammy greeted each staff member by name.
"I have worked with these practices for close to seven years," shared Tammy. "When I first began working with them, my priority was to establish a trusting relationship. I always respect their time and let them guide me in deciding what is a priority for them. Then, I am able to set about helping them find solutions that work with their unique situation."
In a meeting with the practice manager, Tammy addressed several in-progress items in the quality improvement plan tailored to the clinic. She verified the practice's Healthy Blue Medicaid contract status and recognized a need to make updates in provider's portal on NCTracks. During the meeting, Tammy assisted the practice in contacting NCTracks to discuss provider affiliation and how to make relevant updates. Tammy also logged on to the Quality Payment Program (QPP) portal to review and discuss the practice's scores from the previous year, looking closely at the cost results.
"Much like the relationship between a patient and provider, I engage practices in shared decision-making. I let them direct me to what is important to them and I try to align that with what they need to do to be successful."
Finally, Tammy assisted the practice in identifying and troubleshooting problems with the practice's uncontrolled hypertension measure. After accessing their practice management and analytics systems to create and review reports, she accessed the electronic health record (EHR) help system to review the required workflow documentation to accurately capture blood pressure results.
11:30 a.m.
Tammy drove to her second family medicine clinic of the day. During her visit, Tammy sat down with the practice manager to review topics relating to the MIPS Promoting Interoperability measure, including electronic health information exchange (HIE), public health and clinical data exchange, and more. She also reviewed hierarchal condition category (HCC) coding with the practice manager to discuss how it could improve their cost score.
"Because of the dynamic nature of health care, there are always new initiatives and often few tools to implement them," Tammy said. "As coaches, we are constantly learning new things and developing those tools as they evolve. If I don't know the answer to something, I always try to connect practices with an appropriate resource."
1:30 p.m.
After lunch with the practice manager at her second location, Tammy made her third and final visit to another family medicine clinic in Watauga County. Upon arrival, Tammy recognized that the team was going through a transition with their support staff. She led a conversation about their transition plan and allowed the provider to communicate their concerns with the team.
"Listening to a practice and understanding what their needs are is key to providing individualized improvement plans," Tammy said. "Much like the relationship between a patient and provider, I engage practices in shared decision-making. I let them direct me on what is important to them and I try to align that with what they need to do to be successful."
After discussing QPP scores and HCC coding with the provider, Tammy made an appointment for the following week to assist in onboarding new staff members.
4 p.m.
After a full day of quality improvement activities in three different practices, Tammy headed home for Davie County.
"My favorite part of my job is being able to help practices learn and succeed. The relationships I have developed over the years is by far the most rewarding part of my job. These are my people!"
To learn more about how your AHEC region's Practice Support team can collaborate with your practice on what matters most, please contact us. Follow the NC AHEC Program on Twitter and Facebook to keep up with our Practice Support offerings and updates.
---