Addressing the Opioid Epidemic through Education and Beyond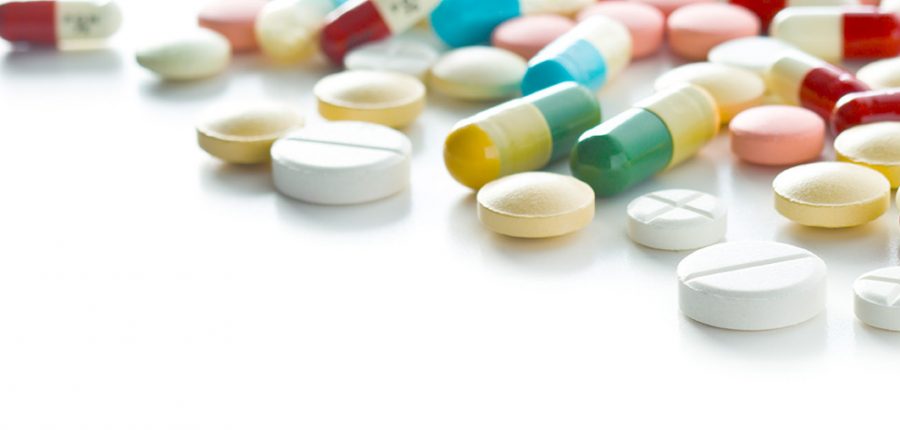 The Opioid Epidemic
The impact of the opioid epidemic is as well-known as it is wide-spread. Deaths due to overdoses now far exceed deaths due to motor vehicle accidents, and these deaths are the tip of the iceberg for the people of North Carolina. As reported by the North Carolina Department of Health and Human Services, for every death in North Carolina there are nine hospitalizations, 17 emergency department visits, and 260 people who misuse prescriptions. The impact on families and communities is even greater, with an 893 percent increase in newborn hospitalizations for complications of substance use since 2004, and almost 42 percent of all foster care placements across the state include substance use as a factor. The opioid epidemic is universal: it touches rural and urban, affluent and poor, infants and children as well as the elderly.
So how do we start addressing such a large, complex issue?
Educating Prescribers
Increasing knowledge of the problem among clinicians has been an important first step. In 2017, NC AHEC developed and provided more than 34,000 hours of continuing professional development related to opioids to more than 8,500 health professionals in 99 of the 100 counties in the state.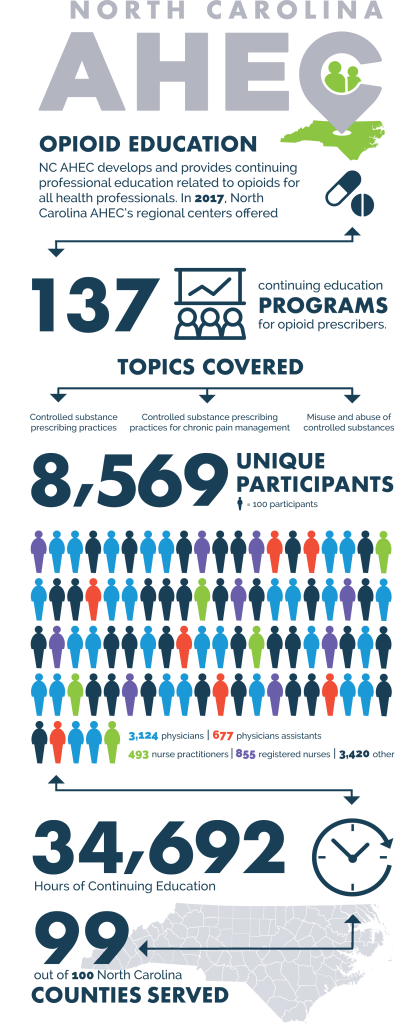 Feedback from participants attending these programs has been overwhelmingly positive. Clinicians reported that they will change their prescribing practices and use over-the-counter medications more frequently. They also requested more training, especially in non-opioid alternatives in management of pain, and many are interested in learning more about other evidence-based interventions. From a statewide perspective, in terms of reaching all health care professions in all 100 counties, NC AHEC has made great strides.
Community-Level Interventions
NC AHEC is also piloting a variety of regional initiatives, including developing primary care opinion leaders; increasing the number of clinicians who can provide evidence-based treatments for opiate use disorder, such as medication assisted treatment; and convening community task forces that engage not only health care professionals and hospitals but also first responders, law enforcement, and other stakeholders.
Wilmington, North Carolina, serves as one example of a collaborative approach to community crisis. In April of 2016, Wilmington was named the number one city in the nation for opioid abuse by the Castlight Health survey. In response, the South East Area Health Education Center (SEAHEC) initiated and led a regional effort to reduce harm from opioids. After conducting a needs assessment and hosting a multidisciplinary symposium to address areas of priority, SEAHEC formed the Community Partners Coalition to improve collaboration and align efforts in the region. Currently, more than 80 organizations and agencies from local churches to large, national health care systems are working through the coalition to positively impact opioid use in the region.
View Appendix III of NC AHEC's 2017 report, "Continuing Education for Prescribers of Controlled Substances," for more information on this collaborative approach to community crisis.
These regional community initiatives have been successful, in part because of the urgency of the issue and, in part, through effective organization of the many regional partners. NC AHEC exists to make those statewide connections, providing programs and services that bridge academic institutions and communities to improve the health of the people of North Carolina.
NC AHEC's next steps in addressing the opioid epidemic are to implement these initial successes across the state, with an emphasis on rural communities.
More Resources
View a current list of NC AHEC opioid training resources for prescribers of controlled substances at ncahec.net/news/opioids.
Find more information on prescriber requirements at ncmedboard.org or Session Law 2015-241.
View NC AHEC's full report, "Continuing Education for Prescribers of Controlled Substances," submitted to the Joint Legislative Oversight Committee on Health and Human Services on December 1, 2017.
---