Sushma Kapoor, MD, Named CEO/President of Southern Regional AHEC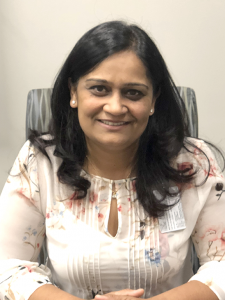 Sushma Kapoor, MD, has been named CEO/President of Southern Regional Area Health Education Center, beginning July 1, 2018. Kapoor, a board-certified family medicine physician, has been the organization's Vice President of Clinical Services and Administration since 2013 and serves as the Director of Southern Regional AHEC's Family Medicine Residency Program. She will replace current CEO/President, Dr. Deborah Teasley, who is retiring after 17 years at Southern Regional AHEC (SR-AHEC).
In her new role as CEO, Kapoor will provide strategic leadership and overall organizational management of SR-AHEC. In the interim, she will continue to serve as the program director of the Duke/SR-AHEC Family Medicine Residency Program and will continue to provide patient care. Her responsibilities also include serving as an adjunct assistant dean at Duke University Medical Center.
"After an extensive national search, the Board of Trustees unanimously agreed that Dr. Kapoor was the best person to lead SR-AHEC in the future," Dr. Warren G. McDonald, Chair of the SR-AHEC Board of Trustees, said of the choice. "She will have big shoes to fill, but we know she has the academic and health care background we were looking for, as well as the institutional knowledge so important at this juncture in our history."
Before coming to SR-AHEC in 2011, Kapoor served as Medical Director and Chief of Staff for Allendale County Hospital in Fairfax, South Carolina. While working with staff and patients there, she refined her expertise in women's, adolescent, and geriatric health.
Since 1974, SR-AHEC has provided a unique dual role in the Fayetteville area: as a health care facility for patients and as an education campus that keeps professionals at the forefront of technology and treatment. The campus also serves family medicine and pharmacy residents as well as health professions students through clinical placements in SR-AHEC's nine-county region. The SR-AHEC Family Medicine Residency Program is affiliated with Duke University Medical Center in Durham, North Carolina, and Edward Via College of Osteopathic Medicine in Blacksburg, Virginia. The pharmacy residency is affiliated with Cape Fear Valley Medical Center. SR-AHEC is part of the NC AHEC Program located at UNC-Chapel Hill. Visit southernregionalahec.org for more information.
Media Contact:
Karen Mantzouris
Director Marketing/Public Relations
Southern Regional AHEC
karen.mantzouris@sr-ahec.org
(910) 678-7269 (Direct Line)
(910) 678-0106 (FAX)
---