AHEC Supports Military Veterans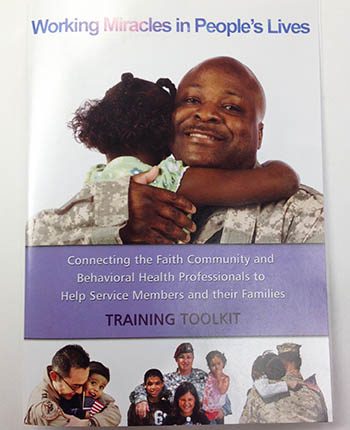 PLEASE NOTE: Greensboro AHEC is now known as Piedmont AHEC. The organization's name changed on February 1, 2023.
Two NC AHEC resources provide instruction and materials to health care professionals, clergy, and others to support military veterans and their families with their transition back to civilian life: A training toolkit DVD, "Working Miracles in People's Lives," produced by Eastern AHEC and "Taking a Military History, Four Critical Questions," an online course provided by Greensboro AHEC.
Working Miracles in People's Lives: Connecting the Faith Community and Behavioral Health Professionals to Help Service Members and their Families
Many of our nation's veterans and military families return home to rural areas where there are few, if any, other supports and services for them. With the belief that our faith community, mental health, social services, and health care professionals need to become partners to ease their transition back to civilian life, a new training resource called "Working Miracles in People's Lives" was created by Eastern AHEC based on workshops done over the past few years.
In the fall of 2014, AHEC programs across the country received copies of this DVD training toolkit. It was developed by Debbie Caton Rogers, MA, director of mental health education at Eastern AHEC, and funded by grants from the Citizen Soldier Support Program (CSSP) and The Duke Endowment to the New Bern District of the United Methodist Church. CSSP and the National AHEC Organization (NAO) are delivering this toolkit to each state's AHEC program office for distribution to the individual AHEC centers in each state and US territory.
"This toolkit is for those with little or no experience coordinating continuing education programs and who are interested in offering training to persons who have interaction with returning veterans and their families," said Rogers. "These veterans, military personnel, their children, spouses and other family members need help for full and healthy reintegration into their home communities.
"The target audience for this resource is pastors, clergy, mental health and health care professionals who want to learn how to apply their existing clinical or pastoral skills to work with active duty military, veterans, national guard and reserve units in any of the five branches of our military who have been deployed to Iraq or Afghanistan. This includes psychologists, social workers, substance abuse professionals, marriage and family therapists, licensed counselors, school-based counselors, teachers, criminal justice professionals, law enforcement, chaplains, nurses, and all others interested."
As many children and adolescents of these veterans may experience difficulties as well, it is also crucial for school-based professionals to be aware of the issues facing these children and families, and where additional help may be accessed. The faith community is particularly vital in this process, as many families may only feel comfortable talking to their minister, priest, or rabbi.
"The NAO recognized that this would be a good follow up training for AHECs that participated in the Veterans Mental Health project in 2012 and 2013, as well as a good beginning for AHECs that did not," noted Rogers. The toolkit contains all the resources needed to offer training from one hour up to a full-day six-hour workshop.
AAMC Joining Forces and Citizen Solider Support Project Launch Online Course
The Joining Forces initiative was launched in 2011 as a nationwide effort to call all Americans to rally around service members, veterans, and their families and support them through wellness, education, and employment opportunities.
An outgrowth of this initiative was a partnership with the AAMC (American Association of Medical Colleges) whereby more than 100 medical schools committed to enhance the training of tomorrow's doctors in improving the health of the military and their families. Since 2012 the AAMC has held a Joining Forces Wellness Week each November to focus on health care providers' and trainees' knowledge of military life and culture; to help them provide more culturally-competent care to active duty and retired service members, veterans, and their families.

AHEConnectAs a part of the 2nd Annual AAMC Joining Forces Wellness Week in 2013, faculty from medical schools at Cornell, Sanford, Tufts, and Duke collaborated to provide a live webinar titled: "Taking a Military History, Four Critical Questions." The focus of the content was to emphasize the importance of asking the right questions of veterans and their families and documenting the answers in the patient's health record.
The Citizen Soldier Support Project and the Greensboro AHEC were given permission to convert the hour-long webinar into a 30-minute online course, which is currently offered free-of-cost to health providers. The course offers AMA PRA Category 1 Credit for physicians, and IACET (International Association of Continuing Education and Training) Credit among other types. Visit the Citizen Soldier Support Project website to enroll.
---