Northwest AHEC Recipient of CVCC's 2018 Community Partnership Award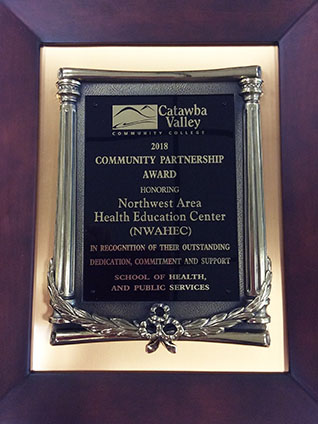 Catawba Valley Community College (CVCC) in Hickory, North Carolina, presented Northwest AHEC with a 2018 Community Partnership Award at their spring 2018 graduation ceremonies. The award recognizes Northwest AHEC's outstanding dedication, commitment, and support for CVCC's School of Health and Public Services.
"We are so pleased to receive this award in recognition of our longstanding partnership with CVCC, and we look forward to continuing this partnership in the future," said Dr. Michael Lischke, Richard Janeway, MD, Distinguished Director of Northwest AHEC.
Northwest AHEC and CVCC began their partnership around medical library services more than 40 years ago. Northwest AHEC has continuously assisted students in the School of Health and Public Services by providing access to medical library services at its satellite medical library at Catawba Valley Medical Center. Additionally, Northwest AHEC, in partnership with the statewide NC AHEC Program, undertook an effort to streamline CVCC students' orientation process for area hospitals by providing a portal for OSHA completion requirements and emergency processes. The streamlined process decreases orientation times at most of CVCC's affiliated hospitals, meaning students can enter their clinical rotations sooner. Northwest AHEC also offers continuing education workshops and conferences on various allied health, public health, and nursing topics, which CVCC students are able to take advantage of to enhance learning opportunities.
Northwest AHEC collaborates with a variety of educational partners in its 17-county region to offer its well-known Camp Med summer program for high school students. CVCC serves as the host and educational partner for Camp Med in Catawba County. Camp Med participants attend CVCC and tour Valley Sim Hospital, Frye Regional Medical Center, and Wake Forest Baptist Medical Center as part of the program's exploration and knowledge-gathering curriculum, which introduces high school students to the various career options in health care.
About Northwest AHEC
The Northwest Area Health Education Center is an educational outreach and training program designed to enhance the health of the public in its 17-county region by improving the supply, distribution, and quality of health and human service personnel—especially in primary care—through diverse community/academic partnerships. Northwest AHEC is a program of Wake Forest Baptist Medical Center and is part of the statewide NC AHEC Program. Visit wakehealth.edu/northwest-ahec to learn more about Northwest AHEC.
---