Practice Guidelines in the AHEC Digital Library
What is the ECRI Guidelines Trust?
Did you know that there's a new website where you can access evidence-based clinical guidelines for free? When the Agency for Healthcare Research and Quality's National Guidelines Clearinghouse was defunded and taken offline in 2018, the ECRI Institute, AHRQ's partner for the website, began to work on creating a new home for these critical tools. The ECRI Institute has launched the ECRI Guidelines Trust, a new repository for clinical guidelines that picks up where the National Guidelines Clearinghouse left off.
How to Find Clinical Guidelines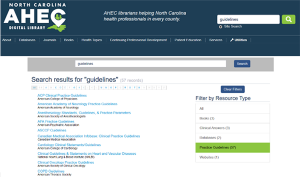 If you're looking for clinical guidelines, the ECRI Guidelines Trust is included in the AHEC Digital Library collection. Use the ADL search box to search for a specific guideline topic. From the list of search results, you can use the "practice guidelines" filter option so that your results will display only the resources that your AHEC librarians have determined to be reliable clinical guidelines.
You can also access the ECRI Guidelines Trust and locate guidelines directly from their site. In order to do so, you will need to register for a free ECRI account. You can get your ECRI account by clicking the "register" link on the ECRI Guidelines Trust homepage, or by going directly to their registration page. After logging into your new account, all the guidelines in the repository will be available to you.
New Features in the ECRI Guidelines Trust
While the ECRI Guidelines Trust has taken on the National Guidelines Clearinghouse's mission of making evidence-based clinical guidelines freely available, ECRI's new repository is not a direct reproduction of AHRQ's defunct version. ECRI's repository includes the new TRUST Scorecard, an indicator that appears only on the guidelines that meet the Institute of Medicine's standards for trustworthiness. Since the repository includes all guidelines with a neutral collection policy, the TRUST Scorecard is an easy way to determine a particular guideline's transparency and rigor.
The Future of the ECRI Guidelines Trust
While the ECRI Guidelines Trust does not yet equal the scope of the National Guidelines Clearinghouse, more guidelines are added every day. To view this valuable repository, check out the ECRI Guidelines Trust through the AHEC Digital Library or create your account with ECRI today!
For help finding clinical guidelines, or with any other questions you might have, ask your local AHEC librarian or email adl-questions@listserv.unc.edu. We're here to help you!
Written by Lauren Tomola, AHEC Knowledge Management Librarian
---