Preparing Southeastern North Carolina for Medicaid Managed Care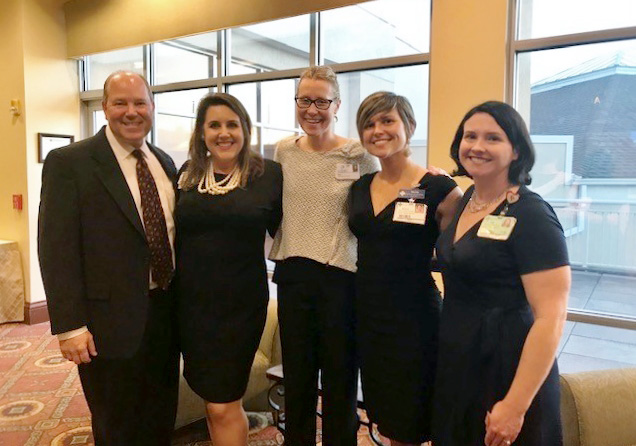 In 2019, the NC Medicaid and NC Health Choice programs are transitioning to Medicaid managed care, the most significant change to the NC Medicaid program our state has undergone in decades.
According to Medicaid.gov, Medicaid managed care is a health care delivery system that provides for the delivery of Medicaid health benefits through contractual agreements among state Medicaid agencies and managed care organizations (MCOs) that accept a capitated (set per member per month) payment for services. States that adopt Medicaid managed care can reduce costs, improve health care quality and outcomes, and better manage the utilization of Medicaid health services.
To help local leaders and stakeholders learn more about Medicaid managed care and how to succeed during the transition, the South East Area Health Education Center (SEAHEC) Practice Support team organized a forum sponsored by a 2018-19 NC AHEC Investments in the Future grant.
Nearly 100 people attended, including providers, practice managers, and other practice staff, as well as local leaders and members of partner organizations. They gathered to hear a panel on what to expect from Medicaid managed care, which included a keynote presentation by Dave Richard, deputy secretary of NC Medicaid. Hugh Tilson, director of NC AHEC, and Jessica Williams, director of SEAHEC Practice Support, followed with a brief presentation on NC AHEC's practice support services and how the NC AHEC Program will be a crucial resource for practices during this time of change. Later, Williams and Dr. Joseph Pino, executive director of SEAHEC, moderated an engaging panel discussion that brought together key figures from UnitedHealthcare Community Plan, My Health by Health Providers, and MAXIMUS, a leading administrator of Medicaid and CHIP services.
Using Poll Everywhere technology, attendees were able to pose questions for the group to answer. Questions that were not addressed were collected for follow-up after the forum. After the meeting, the SEAHEC Practice Support team pulled together a Q&A to share with attendees. They also built a provider tip sheet to better enable practices to begin preparing for changes around managed care. Titled, "Getting Started with Medicaid Managed Care," the tip sheet was distributed to forum participants and to the practices served by SEAHEC Practice Support.
By convening representatives from NC Medicaid, MAXIMUS, and managed care health plan providers in the region, SEAHEC staff and community leaders began building the relationships that will be fundamental to rolling out Medicaid managed care in North Carolina. The Medicaid managed care forum reflects the value of SEAHEC Practice Support services and the high engagement the team has with the practices they serve.
---