Chris Weathington Named Director of NC AHEC Practice Support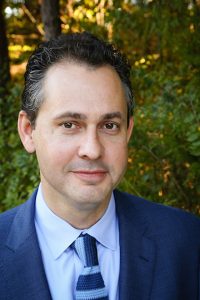 Chris Weathington has been named Director of Practice Support at NC AHEC, effective April 15, 2019. Chris brings to AHEC 23 years of progressive health care administration experience with physician practices, academic medical centers, and community hospital settings.
"We are excited to welcome Chris, who joins us at a crucial time," stated Hugh Tilson, Director of the NC AHEC Program. "Demand for our practice support services increases daily as practices prepare for value-based care, the integration of behavioral health, and Medicaid transformation."
In his former position as Executive Director for Network Development & Physician Relations at UNC Health Care, Chris was responsible for the leadership and management of the network team, including human resources, strategic planning, project management, budgetary and financial reporting, problem resolution, contract management, and program development.He has extensive experience working in the area of practice management and quality improvement and serving the needs of providers in rural and underserved areas in North Carolina. Early in his career, Chris worked with the NC Office of Rural Health as a Primary Care Systems Consultant, leading provider recruitment activities for rural and community health centers and providing practice management assistance in a broad range of areas.
"I am deeply grateful to work with such a talented and exceptional team at NC AHEC," shared Chris. "This is a wonderful opportunity to serve the healthcare needs of North Carolina, especially rural and underserved areas of our state. I look forward to making NC AHEC my home and to collaborating and learning from each and every team member."
A native of North Carolina, Chris obtained his Bachelor of Science in Public Health and Master of Health Administration with a concentration in managed care and quality management from UNC-Chapel Hill.
Chris relieves Debbie Grammer, who had filled in as Acting Director of Practice Support since late October, when former Director Ann Lefebvre accepted the position of Director of South Carolina AHEC.
"We cannot thank Debbie enough. She has done a great job in providing day-to-day leadership and overseeing the practice support service line, including our new work with Medicaid transformation," added Hugh.
NC AHEC's practice support teams ensure that medical practices have the help they need to evolve with the ever-changing healthcare system – from electronic health records to Medicaid transformation. AHEC quality improvement coaches help healthcare practices prepare for new payment models and incentive programs while focusing on patient-centered care. Visit ncahec.net for more information on the services NC AHEC provides and the work that NC AHEC Practice Support is doing across the state.
---