NC AHEC and UNC School of Medicine Offer Virtual Course Curriculum in Medical Management of COVID-19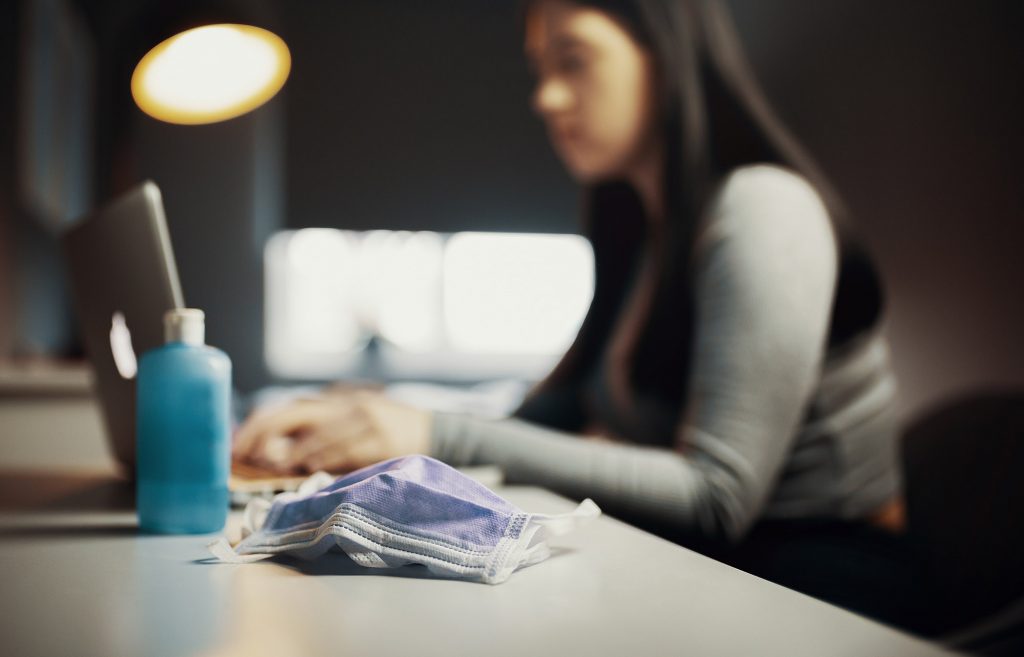 The North Carolina Area Health Education Centers (NC AHEC) Program has partnered with the University of North Carolina at Chapel Hill School of Medicine to create a flexible curriculum on the medical management of COVID-19 for educators to implement in their schools, regions, and communities.
Developed in March 2020 to prepare an interprofessional audience of health care professionals and students to re-enter the clinical setting, Medical Management of COVID-19 equips current and future clinicians alike with the skills needed to deliver care in an evolving health care system. The entire course can be delivered virtually and includes various modalities, including recorded speakers, small group activities, readings, and reflective writing.
Educators utilizing these materials can choose to use all or parts of the topics and activities. Taped recordings offer instructors an opportunity to develop and engage students in discussion questions aimed to elicit thinking about their roles in their specific profession and how teamwork through interprofessional practice can enhance health.
During the the basic science module, participants learn about the virology, pathogenesis, and impact of the SARS-CoV-2 virus on the host immune response. The section provides foundational knowledge about clinical manifestations, progression, and laboratory and image findings of COVID-19, as well as vaccine development and treatment clinical trials. Participants gain a robust understanding of current recommendations for triage, evaluation, and treatment of COVID-19 infections in outpatient, inpatient, and ICU settings, with attention to special subpopulation management.
The course also prompts participants to explore the broader social and economic impact of the virus. Participants will examine the public health implications of the pandemic and the allocation of resources (PPE, ventilators, healthcare providers, hospital beds, etc.) and explore methods for sustained implementation of strategies in patient encounters during a time of social distancing. The COVID-19 course also emphasizes personal wellness for clinicians; participants are encouraged to build a weekly schedule for wellness activities and reflect upon their own wellness goals.
The final component of course emphasizes service learning and community engagement. To fulfill this component, the UNC-CH SOM has partnered with the Office of Interprofessional Education and Practice to form the Carolina COVID-19 Service Corps (CSSC), an interprofessional service-learning program that increases the capacity of health professions students to address the needs of health systems and communities across North Carolina. Students are asked to complete 2 hours of service per week remotely or with the ability to practice social distancing for four weeks through the Carolina CSSC.
The UNC-CH SOM COVID-19 course and the Carolina CSSC can be integrated or implemented individually. Given the rapid pace of discovery around COVID-19, it is imperative that educators review the latest recommendations from leading organizations, like the Centers for Disease Control and Prevention (CDC) and National Institutes of Health (NIH), to update content as indicated and best suit the needs of their learners.
For more information about bringing the COVID-19 medical management course to your school, region, or community, please contact Kaitlin Smith at kaitlin_smith@med.unc.edu. Individuals interested in the Carolina CSSC can learn more on the UNC Office of Interprofessional Education and Practice website or contact Meg Zomorodi at meg_zomorodi@unc.edu.
WITH SUPPORT FROM JILL FORCINA
---