NC AHEC Nursing Grant Supports Field Practice for Sampson Community College Students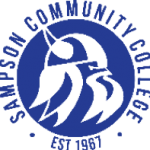 Nursing students from Sampson Community College (SCC) are not stuck in a classroom all day. Thanks to a grant from NC AHEC, nursing students were able to visit several farms across the area to provide health and wellness checks to farmworkers as part of the Farmworkers Health, or Farmworkers Outreach Program at SCC.
The North Carolina Area Health Education Center awards grants to nursing schools to develop new clinical settings and experiences in rural and underserved areas and areas of special need. The SCC nursing program chose to work with the NC Farmworker Health Program because of the health risks farmworkers face as a large, underserved group in great need of health education. Farm labor is included in the top three most dangerous occupations in the nation. Farmworkers have a greater risk of experiencing occupational skin disease, workplace injuries, pesticide exposure, infectious diseases, mental health issues, hypertension, obesity, and diabetes, and limited access to health care compounds these issues. Additionally, farmworkers face secondary challenges due to language, transportation, cost, childcare, and work schedule barriers.
"So far, we have treated hundreds of farmworkers," stated Dr. Veronica Stevens, division chair of health programs at SCC. "Our nursing students are engaged in farmworker health on local rural area crop farms. They receive quality experiences as they interact with the targeted population. Students provide health screenings and education, based on the primary and secondary indicators listed by the North Carolina Farmworker Health Program. These include but are not limited to: heat illness, crop-related illness, pesticide exposure, sexually transmitted diseases, oral health, information about clinic services, domestic violence, diabetes, emotional health, immunizations, family planning, and motor vehicle safety."
During these off-campus visits, the nursing students perform height and weight checks, blood pressure and blood sugar screenings, and educate groups on the topics for which they are most at risk. Members of the NC Farmworkers health project are on-hand to respond to abnormal assessment findings and can schedule appointments or have clinic groups revisit camps.
Yire B. Hernandez, the SCC nursing instructor who administers the program for the college, said it is important not to underestimate its impact. Yire has always been active in working with the migrant population and recognizes the value of this experience. "Working with this population offers a learning opportunity that students do not receive in a hospital or classroom setting. It allows them to see another aspect of public health and they have a chance to use some of the skills they have developed in nursing school."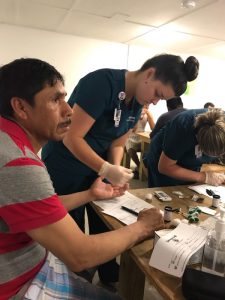 SCC students are serving Harnett, Johnston, Sampson, and Duplin counties. In summer 2018, the students visited farmworker camps in Benson, Angier, Clinton, Newton Grove, Four Oaks, and Faison. They also participated in health screenings on a medical mobile unit sponsored by the Eastern Baptist Association.
For more information about the Nursing program at SCC, contact Dr. Veronica Stevens at vstevens@sampsoncc.edu. Photos courtesy of SCC.
About Sampson Community College
Sampson Community College, located in Clinton, North Carolina, in Sampson County, is a member of the North Carolina Community College System. The college offers early college education, two-year degree programs, and college transfer, continuing education, and workforce development options.
---