Pascal "Osi" Udekwu Named 2018 Eugene S. Mayer Traveling Fellow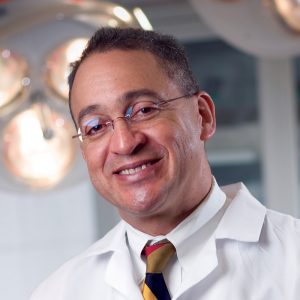 Pascal "Osi" Udekwu, MBBS, MBA/MHA, executive medical director of the trauma center at WakeMed Health & Hospitals and adjunct professor of general surgery at the UNC Chapel Hill School of Medicine, has been named the 2018 Eugene S. Mayer Traveling Fellow by the North Carolina Area Health Education Centers (NC AHEC) Program.
The fellowship, honoring the memory of longtime NC AHEC director Eugene S. Mayer, is part of an exchange program in which NC AHEC-based faculty spend a month studying aspects of the British medical education and health services delivery system. In return, NC AHEC hosts fellows selected by the United Kingdom's National Association of Clinical Tutors.
In his letter of nomination, Dr. John Perry, executive director of Wake AHEC, described Udekwu as the consummate clinician-educator. "Dr. Udekwu always keeps the patients' welfare as his highest priority and has worked to elevate the standards of care at WakeMed to the highest degree possible. He is fair and appreciates nuance and subtlety in practice variability across departments and physicians, and these qualities have earned a level of respect that has propelled him into numerous leadership roles."
As the 2018 Eugene S. Mayer Fellow, Udekwu will spend a month in the UK, where he will meet with surgical educational leaders and trainees to explore the differences in surgical curriculum content relating to public health. He hopes that exposure to the UK's National Health System will provide clues as to why health performance statistics are better and health care costs lower than in the US.
"How do other national health systems manage communication with their general population, and what role do individual and leadership physicians play in development of the national expectations regarding health systems? Is there a relationship between education provided to physicians in training with the general communities' expectations for health systems performance? Is this communicated directly or indirectly in the physicians' behavior and communications in clinical, regulatory, and administrative practice? There is currently no requirement for integration of public health related issues into surgical education in the US. Challenging the perceptions that compartmentalize specialty care delivery and exempt specialty physicians from the public health domain may be overdue."
Udekwu's unique upbringing, medical experience, and military background have prepared him well for this next step in his career. Born in the US, Udekwu grew up in Nigeria, where he finished high school and medical school. He returned to the US for residency training in pediatrics and general surgery at the University of Chicago, where his mentor, Dr. George Block, encouraged him to serve in the military.
Active in the US Army Reserve from 1988 to 2005, Udekwu was deployed as chief of surgery to Bagram Air Base in Afghanistan, where he said he was exposed to the tragedies of an inadequate health care system. "We had 56 beds, and we were the highest level of care in the whole country." He continued his military service in the US Air Force Reserve from 2010 to 2017, retiring as colonel of the District of Columbia Air National Guard, with his last assignment in critical care air transport.
In 1991, Udekwu joined Wake Med and UNC Chapel Hill. Over the past 27 years, he has contributed to the medical education of a long list of UNC surgical residents, medical students, and faculty. He started a physician assistant residency program at WakeMed and served on the North Carolina Medical Board for five years, including one year as president. In 2006, Udekwu went back to school to earn dual master's degrees in business and health administration from Pfeiffer University, paralleling his interest in public policy and health care regulation and, ultimately, leading him to apply for the Eugene S. Mayer Traveling Fellowship.
"I feel confident that Dr. Udekwu will reap the maximum benefit from this fellowship experience, and I look forward to learning of his experiences upon his return," stated Perry. "He will be presenting at WakeMed on his fellowship as well as teaching students and residents about his observations on the NHS."
Visit ncahec.net to learn more about the Eugene S. Mayer Traveling Fellowship.
---